The Ace by Rhonda Shaw: To say Karen Bentley has commitment issues is to say the sun's surface is only sort of warm. Her father left her mother. Her ex fiancé destroyed not only her heart but her confidence. Really there isn't much she has left so she built a wall of sarcasm and snipes to protect her, her heart and those few she loves.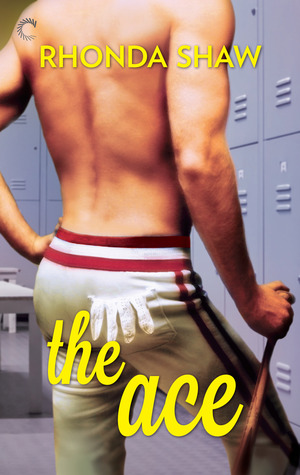 Jerry Smutton has done pretty well for himself, he's the "Ace" after all. The star pitcher of a major league baseball team and still a "normal" guy. The only thing is, he doesn't do or want commitments. Short term, sure; friends with benefits, of course… more than that and no thank you.
Jerry and Karen are bound together in more ways than her humongous crush on him, they are going to be maid of honor and best man at their best friend's wedding. What's the problem with that after all they are both consenting adults who are attracted to one another, not to mention neither can do commitments. Except when they both start to want one and neither can handle the implications of what that means. So what is going to happen? Will the past dictate the future? Will Karen learn not all men are evil? Will Jerry realize that needing someone isn't a bad thing? Or will one fastball rid either of them of a choice?
The Ace is the second book of a series and while it can be read as a stand alone is much more fulfilling when read in conjuncture with the first. Ms. Shaw's characters are so easily real and easy to connect with. In this story you can feel the confusion of Jerry and Karen throughout the entire novel until it clicks and in that moment it's like a huge sigh in your heart knowing that it really will be alright, after all if those two pieces of work are able to make it work the only sorta crazy ones should be able to as well. This was a good read, hard to put down and I can't wait to read "Bucky's" story which I'm hoping is next….
Book Info:

Published April 14th 2014 by Carina Press
"Love 'em and leave 'em" has been real estate agent Karen Bently's motto for as long as she can remember. She doesn't need a man, except to make her toes curl. Or so she thought, until her longtime crush, Ace pitcher Jerry Smutton, sets his sights on her.
After signing one of the largest baseball contracts in history with the Detroit Rockets, Jerry enlists Karen to help him find the house of his dreams. Their connection is instant and electric, but neither of them is the relationship type. When Jerry proposes a friends-with-benefits arrangement, that suits Karen just fine.
Passionate sleepovers soon turn into long, romantic evenings… Still, Karen and Jerry refuse to acknowledge they're a couple. Karen insists that she's immune to Jerry's heart-melting charm. Jerry's not ready to settle down. Denial is the name of the game, until one pitch changes everything…