The Alaskan Catch by Beth Carpenter: The name of this novel, The Alaskan Catch, was what first caught my interest, as my honeymoon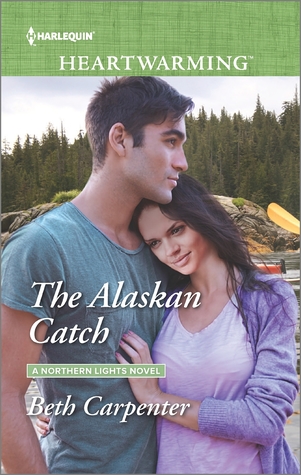 with my husband was to the beautiful state of Alaska 17 years ago. It is easily one of the most beautiful places I have ever visited, and hope to return to.
In "The Alaskan Catch", Dana is immediately taken by the beauty of the Anchorage area when she travels to find her long estranged older brother upon their father's passing. Beth Carpenter does a skillful job of describing the wild beauty of Alaska's scenery and wildlife, and in many scenes it was easy to imagine myself right there with Dana and Sam- Sam is her brother' Chris's friend and landlord, with whom Dana strikes up a strong friendship, though a bit uneasy once they realize their fathers were connected many years earlier, and that it was kept secret.
Dana is determined to reunite with her brother, and to also protect her father's reputation which she believes is sterling. Her brother, Chris, has different memories and does not want to claim an inheritance he believes should not be his. Meanwhile, Sam and Dana grow ever closer during a raft trip, during which Dana falls deeper in love with Alaska and with Sam, though she tries to fight this. Dana feels she will have to return home to Kansas to look out for her mother.
Sam tries fighting the attraction, as he plans to take a job that requires constant international travel. The raft trip takes a frightening turn when Dana falls out and Sam rescues her and becomes injured.
To find out what happens and how they find their way to assistance, I highly recommend you read "The Alaskan Catch". It is a story of renewed family ties, of friendship, of self discovery and special romance. You will not be disappointed.
Book Info:

Publication: August 8, 2017 | Harlequin Heartwarming | Northern Lights #1
Where life's currents take you Dana Raynott just traveled 3,600 miles to reunite with the brother who changed his name and fled to Alaska nineteen years ago. It's impossible not to be moved by this wild, breathtaking state, even if Dana's no closer to finding the answers she came here for. Her brother's best friend, Anchorage engineer Sam MacKettrick, might be able to help her. He's strong and kinda six-foot, irresistible blend of diverse cultures. He's also haunted by a tragic family history with a startling connection to Dana's past.