The All-Star Antes Up by Nancy Herkness: Nothing comes before football for Luke Archer.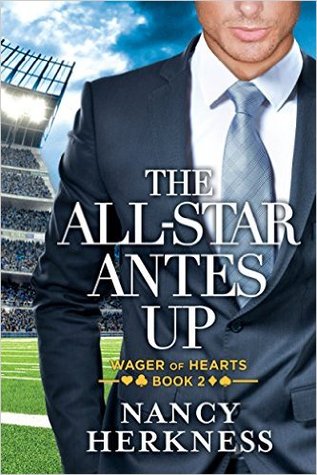 During the season he cuts out all distraction. Except, when he's benched for the week due to injury and can't get the delectable Miranda Tate, a concierge in his building, out of his mind.
Miranda loves her job and has high hopes for her own business, if only her boss weren't so dead set against her. The last thing she needs is Luke Archer romancing her, giving her boss an excuse to mess with her more. But she can't resist Luke, and neither can he resist Miranda, the one person who seems to see past the fame and jock.
But Luke only has this week to give her. After that he needs to cut out distractions, including and especially Miranda. The woman he can't get off his mind.
Luke's hand shot out to grasp her elbow in a grip that felt like sun-warmed iron. As he held her steady, she had the sense that he could lift her off the ground with just that one hand.
"Thank you," she gasped. She, who prided herself on never losing her composure, sounded like a breathless teenager because a blond football god had touch her elbow.
The he unleashed a weapon so powerful she had no defense against it. He smiled.
I really enjoyed this journey. I felt like I was able to delve into each character, their lives and their romance. Although perhaps not the best chemistry, they felt real. Individually and together I enjoyed both Miranda and Luke a lot.
She's a farm girl who's citied up and he's got a whole lot of insecurity about being the jock in his academia-oriented family. But they always got each other's back, and even though they only spent this week together, they delve deep with one another.
With a fun cast of characters, The All-Star Antes Up is definitely a world I liked being in. Also, it definitely has the feel of a sports novel, so for any sports romance fan I highly recommend The all-Star Antes Up.
Book Info:

Publication: May 31, 2016 | Montlake Romance | Wager of Hearts #2
"No strings, no rings." That's Luke Archer's motto. As the champion quarterback for the New York Empire—not to mention a self-made billionaire—Luke has given up on serious relationships. Women only want him for one thing: the thrill of being with a superstar. And he can't risk love distracting him from his next Super Bowl victory. But when his best friend announces he's retiring from football to spend time with his wife and kids, Luke feels like he's missing out on something much bigger than his career.
The assistant concierge in Luke's luxury high-rise, Miranda Tate fled her family's dairy farm to come to the bright lights of New York City. She works hard to move up and sends her spare earnings home to her brother. When she and Luke meet, there's an instant attraction, but they're in completely different leagues. Could Miranda be just the woman Luke needs to win the most important game of his life?