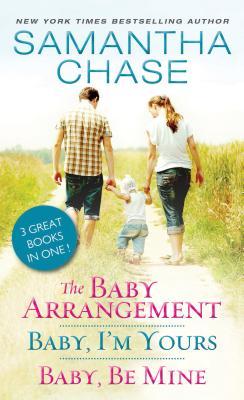 The Baby Arrangement/Baby, I'm Yours/Baby, Be Mine by Samantha Chase: The Baby Arrangement, Baby, I'm Yours, and Baby, Be Mine is a collection of three previously released novellas by Samantha Chase, each featuring a man suddenly thrust into fatherhood.
In the Baby Arrangement, a baby is dropped off at Derek Sloan's office. He's pretty sure the child is actually his brother's, but the irresponsible man is out of the country with no way for Derek to reach him. Kayleigh, a customer service representative at Derek's company, hears the crying baby and goes to Derek's office to calm her down. When Derek notices how quickly the baby quiets down and how good Kayleigh is with her, he offers her a full-time position to watch the baby until his brother returns and they can straighten the situation out.
In Baby, I'm Yours, Nicole had a one night affair with a man named Tyler. She leaves in the middle of the night, with no way to contact him when she discovers she's pregnant. When her best friend and her fiancé arrive, with the fiancé's brother in tow, Nicole is shocked to discover that not only is he Ellie's father, but his name is actually Josh. Now that Josh has found the woman he hasn't stopped thinking about in years, and discovering he has a daughter, he's determined to keep them both in his life.
This was probably my least favorite of the novellas in the book, and mainly because of Nicole. I found she overreacted about things. At one point she makes a comment about Josh abandoning her, when all he was doing was leaving for work. Then when a woman answers his phone, instead of trying to find out who she was, she assumes the worst about him and wished he hadn't come back into their lives. I understand she had trust issues considering he gave her his middle name when they met, but she took things a bit too far.
The last novella is Baby, Be Mine. This was the longest of the novellas and my favorite of the book. When Jake's ex drops twins off on his doorstep and takes off, he's at a loss for what to do. He calls his best friend, Mike, who in turn calls his sister, Olivia. Liv always had a crush on Jake, but after her one attempt at kissing him at her eighteenth birthday party and being pushed away, she spent years avoiding him. She takes one look at the babies and falls in love, and does her best to help Jake adjust to sudden parenthood. Jake always had feelings for Olivia, only pushing her away because he was worried about losing his best friend. As she helps him, he realizes his feelings have only grown stronger, but he doesn't know what to do to keep her from returning to LA.
Since these are novellas things feel a bit rushed, especially in the first two stories. If you don't mind that and are looking for a few quick reads bundled together, this may be a book to consider.
Book Info: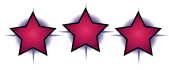 February 2, 2015 | Sourcebooks Casablanca |
The Baby Arrangement
Derek Sloan is more than shocked when someone mysteriously delivers a baby to his office. Kayleigh Mitchell naturally steps up to help her boss, and soon hopes he'll see her as more than just a temporary solution.
Baby, I'm Yours
When Nicole Taylor rediscovers the father of her child three years after their one wild night of passion, Josh Masterson is determined to prove there's still a chance for their own happily-ever-after.
Baby, Be Mine
Jake Knight came home one night to find trouble on his doorstep-times two. With infant twins to care for, Jake desperately calls on a heartbroken ex for help…and the more time he spends with Olivia, the more he wants this makeshift family to be permanent.