In The Baby Project by Miranda Liasson, Dr. Liz Kingston had left her hometown after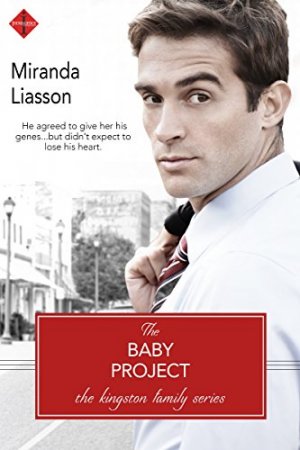 catching her husband in bed with someone else. After spending a year abroad working with Doctors Without Borders, she has returned to her hometown with one mission–to get pregnant. She has a medical condition which will make it difficult for her to conceive to begin with, and the older she gets the less her chances of having a baby are. While abroad she had a brief affair with British international correspondent Grant Wilbanks. They way they parted ways was less than ideal, but when he's banished to her small hometown after an international incident, Liz knows how he can make it up to her–be a sperm donor. After all, he has no plans to stick around, and she wants to raise the baby as her own. But will that be enough for both of them?
I felt for Liz. All she wanted was a child. Both of her sisters were pregnant and all they talked about were baby things, which left her feeling left out and jealous. She doesn't confide in them about her problem, as she doesn't want them to feel sorry for her. She suffers in silence, only confiding in her best friend, fellow OB Brett. Having been hurt by both her ex-husband and Grant, she wants nothing more than to raise a baby on her own. She doesn't want or need a man. But when Grant returns, she realizes her feelings for him haven't changed, despite how angry and hurt she was by him.
Grant feels like he wouldn't be a good father because he didn't have a good example. Plus he was always travelling for his job. When Liz asks him to father her baby, he's both relieved and disappointed that she doesn't want him to stick around. He agrees to her terms though, because he genuinely cares about her and feels bad about how he stood her up at the train station. They both fears and insecurities when it comes to each other and life in general that they need to work together to overcome.
I liked how protective Liz's family was of her, and how they put Grant through his paces to determine if he was good enough for her. Even though Liz didn't feel comfortable confiding in them, it was clear that they would be there and support her no matter what.
I haven't read the first two books in the series, but this works well as a standalone. Those two are about Liz's sisters, and I enjoyed this one so much I'll go back and read those, too.
Filled with love, laughter, family, forgiveness, and characters readers will be able to relate to and sympathize with, readers will be rooting for a happy ending. Fans of second chance romances will want to add this one to their reading lists.

Book Info:

Publication: September 4, 2017 | Entangled: Indulgence | Kingston Family #3
Liz Kingston spends her life delivering babies and longs for one of her own. All she needs is someone with fabulous genetic material. Who better to ask than her sexy ex-fling, who has no interest in ever settling down or being a father.
International correspondent Grant Wilbanks loves danger and travelling the world. But nothing in all this Brit's experience could have prepared him for the way a torrid affair with Liz makes him feel. When she asks for his assistance, he figures he can help her out with a simple donation. No strings, no emotions, just…test-tube science.
But this simple favor gives them both more than they ever bargained for. Grant agrees to her terms, but stepping away gets harder and harder because the more time they spend together, the more he finds himself falling…and losing the battle to safeguard his heart.