In The Bad Boy Billionaire's Girl Gone Wild (Bad Boys & Wallflowers #2.5) by Maya Rodale, Librarian and aspiring author Jane Sparks finds herself in a predicament. Her fake engagement to billionaire, and sexy bad boy, Duke Austen has almost run its course. But she doesn't want it to end. Or to be fake. Somehow her feelings have become real along the way and Jane's pretty sure Duke feels the same as well.
'It should be so simple: boy meets girl. Boy and girl embark on fake relationship before boy and girl inevitably fall in love and live happily ever after. If only!'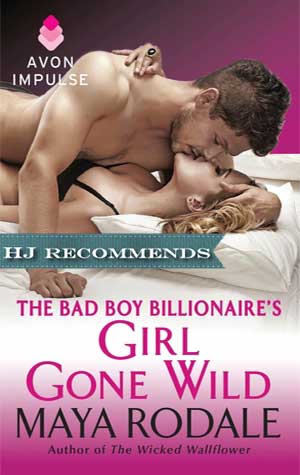 Jane self-publishes her historical romance based somewhat (okay, mostly) on her experience between herself & Duke, and her breakup with her ex-boyfriend Sam. Given that it was written under a pen name, Jane doesn't think the media will catch wind of the author's true identity. No such luck. When the media onslaught begins, she worries it will affect Duke's business plan at an IPO and that his investors will bail. Will the attention end a relationship that was doomed from the start? Or will Jane and Duke give in to their true feelings and give it a real try?
'As if he had the same thought, he pulled me closer and our kiss deepened. This was real. Whatever else about us was fake, an act, or pretend, this was real. I could feel him not just where he touched me, but in my soul.'
The Bad Boy Billionaire's Girl Gone Wild is a fun, flirty and uber trendy novella in the Bad Boys & Wallflowers series set in NYC. Focusing on a love triangle between Jane–a former wallflower, Duke–a billionaire, and Sam–her former high school sweetheart and literature professor, things get complicated and very, very steamy in a hurry.
One thing I find ingenious about this series is that the novella's are actually about the modern day author who pens the full-length historical romance novels. Did ya catch that there? So in other words, books one and two in the Bad Boys & Wallflowers series are historical romance novels…and the novellas in between are set in the modern day about Jane Sparks (aka Maya Rodale) who wrote said romance stories. A wee bit confusing, but once you read any of the novellas, it becomes apparent and adds a whole new twist to the series.
I loved the realistic struggle Jane has with her love triangle. She feels comfortable with Sam as they've been together so long, but he broke up with her and she's not sure how she feels about it when he comes back around. Then there's Duke. Jane feels the sparks instantly and really thinks there is a chance at something great there, as long as it won't harm either of their career aspirations. There were definitely some very passionate (and hawt!) moments along with some self-reflection, of course. My only gripe? Major. Cliffhanger. Not that I typically mind. But I feel invested in Jane's situation somehow and really, really want to know what happens next.
I hope you really enjoy this contemporary romance novella as much as I did if you get the chance to check it out. It may be helpful if you have read the previous installments, but it's not absolutely necessary.
Book Info:

Published February 4th 2014 by Avon Impulse
The second installment of a sexy, whirlwind romance about a modern-day heroine writing historical novels based on her romantic misadventures with the Bad Boy Billionaire.
Being good hasn't exactly worked out well for Jane Sparks. Her ex-boyfriend dumped her for being too predictable, and her fake fiancé, Duke Austen, is counting on her good-girl image to repair his bad-boy reputation. But everything changes with the publication of the historical romance novel she wrote based on her fauxmance with the Bad Boy Billionaire. Suddenly she's notorious, scandalous, and causing lots of trouble.
Duke Austen always admired Jane's poise and perfectly demure behavior … qualities that seemed to have vanished once she helped him land a big investment deal. But now that his company is on the verge of a 20-billion-dollar IPO, the stakes have never been higher—and Jane has never been more shocking, provocative, or wickedly irresistible. She's not at all the woman he bargained for, yet she's the only one he wants.
Duke is determined to woo his girl gone wild. She's determined to keep him guessing. But Jane is discovering that there's nothing so appealing as a billionaire who's mad, bad, and dangerously seductive …
The contemporary love story connected to Wallflower Gone Wild.