The Best Laid Wedding Plans by Lynnette Austin: Jenni Beth has had feelings for her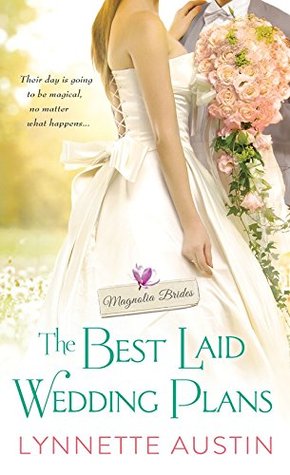 brother's best friend, Cole, since they were children. But when he stands her up from prom to take the head cheerleader instead, and then years later sleeps with her and takes off without another word, Jenni is done. She moves from Savannah back to Misty Bottoms to take over her family's home and turn it into a wedding destination to not only save the house and the land, but to help save the town as well.
Cole is determined to prove he's changed to Jenni Beth, When he hears the bank president, Richard, scheming to make her mortgage structured in such a way she'd be forced to foreclose, he decides to do anything in his power to help her business venture succeed.
Jenni Beth is weary of Cole's intentions, but she realizes he really does want to help her and her family. Slowly she begins to let him back in as they rebuild their friendship, turning it into something more. She has no problem telling anyone how she sees it, even confronting Richard several times when she discovers things he's done to hinder the renovations.
I liked Jenni Beth. Even though she was struggling to renovate Magnolia House, dealing with her brother's death, and dealing with the grief her parents had fallen into, she still took time to help out others. For example, when she finds out one of the elderly women in town needs new windows, she figures out a way to make room in her budget to pay for them for her. She attempts to get several businesses in town to associate with hers because she knows those people desperately need the money. When people asked for help, she immediately came to their aid.
Even though Jenni Beth tries not to see it, Cole is the same way. When there was an incident with roses in the garden, he drove out of town to find new roses to replace them. Then he spent all night planting them. If he had an inkling that Jenni Beth needed anything, he would take care of it.
While I enjoyed the book, I was a little disappointed about the reveal of who Richard had been working with. The whole book was building up to that moment, but when it got there, it fell flat. It was pretty much a "here's who did it" and that was that. There was an explanation of who it was, but it was very brief. It was never explained what they wanted the land for or why one of the people actually helped Jenni Beth out. It just felt like it could have been drawn out a little more.
The Best Laid Wedding Plans has a little bit of humor, a little bit of heartache, mystery, and romance. It's a good start to a new series, and I'm looking forward to the next one.
Book Info:

Publication: November 3, 2015 | Sourcebooks Casablanca | Magnolia Brides #1
Jenni Beth Beaumont thought she left her broken heart in Chance, Georgia, when she moved away. But when she suddenly inherits her family's beautiful, antebellum home, her dream of turning the residence into a wedding destination calls her back.
Cole Bryson, an architectural salvager and Jenni Beth's former flame, intends to purchase and deconstruct the Beaumont family's down-at-the-heels estate. To his surprise, Jenni Beth is more of a stubborn Southern girl than he thought. Cole will have to use all his sultry, steamy tricks to test more than the resolve of his sexy competition…