The Best Man's Baby by Karen Booth: High school sweethearts Julia Keys, now a successful actress, and former baseball star Logan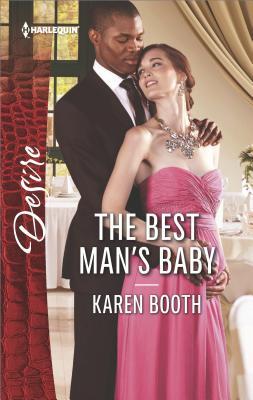 Brandt have seen their share of ups and downs. Though they broke up long ago when they were headed off to different colleges, the connection between them never really went away, and with every successive high school reunion they'd ended up playing on their attraction to each other but always holding something back. The last time they saw each other, three months ago, they tipped over the edge into a two night fling. Brought abruptly back to reality by a tabloid article linking Julia with her current co-star, Logan ended things and vowed not to get involved with Julia again, knowing there would be no future for them.
Back in town for her sister Tracy's wedding, Julia harbors a secret. She's pregnant. And the crux of it is that she doesn't know if the baby is her ex-boyfriend's, whom she broke up with just before her last high school reunion, or Logan's from their passionate weekend together. With both of them involved in the wedding party, Julia and Logan will be spending plenty of time together. When Julia tells him about the baby, Logan makes some quick decisions. With the paparazzi hounding Julia and threatening to ruin Tracy's wedding, Logan steps up and proclaims them a couple. Can a fake relationship and a pregnancy give them a start at a brand new future together?
This couple sure has gone through their ups and downs! They really were in love in high school, but Julia's insecurities made her believe that Logan wouldn't be faithful in a long distance romance, and so she ended things with him, breaking his heart and her own in the process. While they have seen each other many times since then, they've both been wary to commit to each other again in a meaningful way. The baby changes all that, though not necessarily for the better at first. While Logan is happy to say he'll marry Julia if the baby is his, she worries about what will happen if she commits her heart to him again and the baby doesn't end up being his after all. Will that be the end of their relationship? She wants someone who will stick with her for the duration, no matter who the real father of the baby is. To his credit, Logan eventually realizes that he wants to be with Julia no matter what which goes a long way towards cementing their relationship. In the meantime they share several sexy scenes together – their attraction to each other is just as strong as ever.
Julia's sister Tracy though, she's a piece of work! A bridezilla of the first order, she's not a very likable character. It's not Julia's fault that the paparazzi followed her home, but Tracy takes it as a personal affront . Julia's pregnancy is unintentional, but when the family finds out, Tracy uses it as another thing against Julia, as if she planned it to ruin her wedding. I felt sorry for Julia having to deal with her, while going through the unpleasant side effects of early pregnancy. (And I felt bad for the guy marrying Tracy too!). In the end everything gets sorted and the wedding goes off without any major disasters but she sure made for an annoying character.
Julia's parents aren't very supportive of Julia either, and it's no wonder she feels insecure about where her life is going. Luckily Logan pulls through as a man Julia can lean on despite their baggage. In fact, overcoming everything that has come between them in the past, and the chance to be parents together makes for an emotional connection that gets stronger over the course of the story. We get a happy ending for this couple, complete with the birth of the baby (you'll have to read it yourself to find out if Logan is the father!). The Best Man's Baby is an enjoyable second chance romance.

Book Info:

Publication: Jan 3, 2017 | Harlequin Presents |
It's a second-chance baby!
Julia Keys has everything going for her–beauty, brains and a Hollywood career. So why does she keep ending up in Logan Brandt's bed? The sexy former pro baseball player has wreaked havoc on her heart for years. But when their latest fling ends with a plus sign on the pregnancy test, Logan makes the case for marriage.
Julia knows the only wedding in their future is the one they're both attending, no matter how hot the chemistry between them still burns. Can two high school sweethearts who've made a mess of love finally get it right…even if the baby isn't Logan's?