The Billionaire Beast by Jackie Ashenden is book two in the Billionaire Fairy Tales Series and will draw readers in with her tormented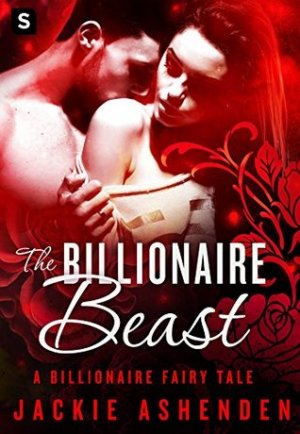 and damaged hero and the woman who saves him.
Phoebe's fiancée has been in a coma for the past two years and she is in desperate need of money, so she can continue to pay his hospital bills. When she sees an ad requesting an assistant that is willing to pay six figures, she jumps at the opportunity. This job offer is unique and requires a 24/7 relationship with the boss and the boss isn't an easy man to get along with. He has needs and wants that she must be able to fulfill and he doesn't take no for an answer. His demands are a little unorthodox, but for that amount of money, Phoebe is willing to do anything.
Nero is a very complex character and if you've read from this author before, you know that Jackie Ashenden is a master at creating complex characters, especially heroes. Nero has issues…and that's putting it lightly. Because of what happened when he was young, he never leaves the house. Everything is brought to him. The man is seriously freaked out about the outside world, and once you learn his story, it's hard not to sympathize with him. When Phoebe applies for the assistant position, he doesn't think much of her, but he has no other choices. Every person he's hired has quit and he needs an assistant quickly.
In the beginning, I didn't like Nero, but being with Phoebe changes him. Once Phoebe wove herself into Nero's life, he started to put her needs and feelings above his own and that might not seem like a big deal, but it is. Especially, for a man who never denies himself of anything.
As for Phoebe, I admired her. She's forced into taking a job with this beast of a man, who can be ruthless at times, but because she is smart, she realizes that there are layers to him that need peeling. Once she gets to know Nero better, things start to get interesting and passion ignites. What started out as a job, becomes much, much more! Overall, The Billionaire Beast was an intriguing read with intense emotions and heartbreaking realizations. For those who love their hero to be of the Billionaire variety or who enjoy damaged characters, this is a good pick!

Book Info:

Publication: March 7th 2017 | Swerve | Billionaire Fairy Tales #2
Dark, tortured, and intimidating, these dominant billionaires will steal their innocent heroines' breath away. Overwhelmed by their desire to control their world, they push their heroines to explore their deepest desires. But even the most unworldly of heroines can unlock these billionaires' secrets.
Nero de Santis: Damaged. Bastard. Beast.
Nero hasn't left his house in ten years—he demands the world come to him, and the world is only too happy to bend to the strong-willed billionaire. Ruthless, cold, and selfish, Nero wants for nothing and takes care of no one but himself. His last handful of assistants have left his house in tears, but the prim redhead applying for the job looks up to the task. Nero has spent his life shut within the walls he built, with no care to have more than a window to the outside world. But the fiery passion he senses beneath his reserved assistant's exterior makes him want to break down the barriers he lives behind, and unleash the beast within.
Phoebe Taylor: Uptight. Misunderstood. Engaged.
Phoebe needs the obscene amount of money that comes with being Nero's personal assistant for one thing, and one thing only—to pay for the mounting hospital costs that her fiancee's two-year coma continues to incur. She's heard rumors that the de Santis beast is a force that cannot be tamed—but even she isn't prepared to handle the smoldering intensity simmering beneath his hard shell of feral dominance. Nero is hiding something, something he is fighting with every step he takes. Yet he can't help but stake his claim on this woman who has shaken up his life, and Phoebe can't believe this animal of a man is the one person to ever look into her eyes and see her soul. Nero wants to keep her. He wants to devour her. And Phoebe just might let him.