The Billionaire's Daddy Test by Charlene Sands: When life is taken away for no reason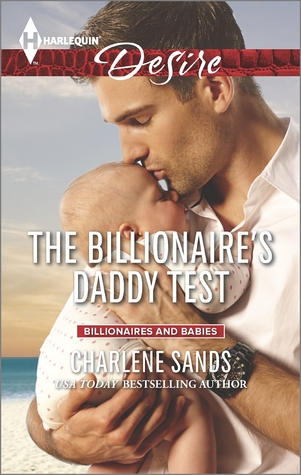 what do you do when it's handed to you a little bit later in a different way?
Mia D'Angelo was certain she loved her niece. When her sister died leaving her baby daughter with Mia and with the name of the baby's father she wasn't sure what to do. Mia was determined that not just anyone would get to be in her niece's life though. After all she knew some men weren't cut out for anyone other than themselves. The only problem was when she got to know him would she be able to give him up?
Adam Chase was a bit of a recluse. He learned a long time ago it was easier to shut yourself off than to get hurt. So maybe it was lonely upon occasion, but overall it was a lot easier. There were times though and so yes he had a few affairs and one night stands but he made it all work, somehow, someway. So when a beautiful woman enters his life he thinks maybe it's time for a brief affair.
Finding Adam had been a big event to Mia. The only problem was is how could she tell him about the baby and acknowledge their chemistry. Or could she? When he found out how would he react? Would they become an instant family? Or would everyone shut down?
This is actually part of two different series, Billionaires and Babies as well as Moonlight Beach Bachelors, however it cane be read as a standalone. This is a novel that is going to take you to the coast of California, indulge you in a glass of wine and take you heart. It will make you fall in love, break your heart and teach you that mended hearts aren't any less potent. There are no cliffhangers and everything is wrapped up nicely, while of course leaving room for the upcoming novels. This is definitely a wonderful read that will play your heartstrings.
Book Info:

Published: July 7th 2015 | Harlequin Desire Series #2383 | Moonlight Beach Bachelors #2
Will a Moonlight Beach bachelor make the grade as a father…and a lover? Find out in this novel from USA TODAY bestselling author Charlene Sands.
Left to care for her late sister's baby, Mia D'Angelo goes on a secret mission to find out if the missing father would make good daddy material. But when she tracks down Adam Chase at his beachfront mansion, her plan spins out of control and they're soon dating!
It isn't long before the reclusive billionaire realizes Mia's keeping a huge secret about the child he never knew he had. Can this guarded man learn to trust Mia after her initial deception…and trust himself around this incredibly sexy woman?