The Billionaire's Paradise by Victoria Davies: Ever since her divorce two years ago, Avery has stuck her head in the sand and focused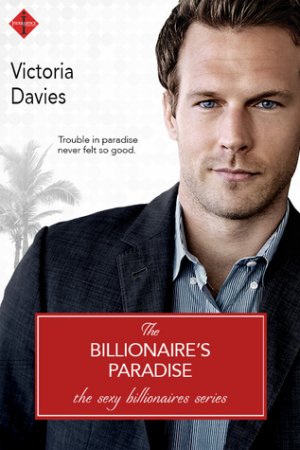 solely on work. But a few months ago, she was forced to face the loneliness she'd been feeling when she has a passionate one night stand with one of her clients, billionaire hotel mogul Hayden Wexton.
Hayden hasn't been able to get Avery off his mind. He don't know why he noticed her that night, but now she's all he can see or want. She's rejected his advances for months, but now that she's working on one of his hotels in island paradise for a few weeks and he plans on finally seducing her again.
But Avery wants monogamy and commitment while Hayden will never commit to another woman. He's good for a fling, and he'll just have to convince Avery that she needs that short term passion in her life. Or she'll convince him that love can be honest and true.
I love billionaire stories; I really do. But this one did not work for me. More than anything, Hayden came across creepy to me. I felt uncomfortable for most of the story and so-called seduction. He never had any open with Avery and yet he wouldn't leave her alone. Instead he trapped and stalked her on an island.
I liked Avery. She was a bit boring, doing and saying little of interest, but at least I could respect her work ethic and desire to find her life again. Hayden, on the other hand, had nothing. He claimed to work hard, but all I saw was playboy billionaire.
I wish this story was sexy. I wish Hayden wasn't so aggressive, and that these two were a comfortable and fit pairing. This is the third in a series and can be read as a standalone.

Book Info:

Publication: August 7, 2017 | Entangled Indulgence | The Sexy Billionaires #3
Avery Clark loves her life. She travels the world doing a job that keeps her so busy she can't think about how lonely she is or the fact that she hasn't had day off in two years. This trip to paradise is a chance for her to get some sun and have a Mai Tai or three. That is until she runs into billionaire hotel mogul Hayden Wexton, who is absolutely one hundred percent off limits.
Hayden Wexton is a man who knows what he wants. As soon as he sees Avery, he can't get her out of his head. He's determined to show her life can be fun and she can still get her work done. Only, the more time he spends with her, the more she gets under his skin. That was definitely not a part of his plan.
Avery never makes mistakes, but with Hayden, well, hell, he might just be the best mistake she's ever made.