In The Billionaire's Runaway Fiancee (Invested in Love #2) by Jenna Bayley-Burke, being employed to work for billionaire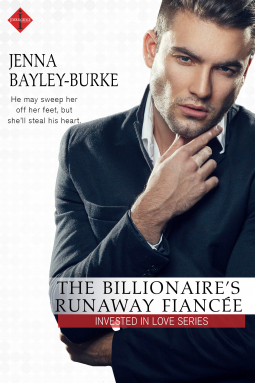 Curtis Frye was supposed to be temporary, but when he offers Robin Tindall a permanent job and proposes something completely crazy like asking her to be his fiancée, how can she possibly say no. Especially when the money is good and Curtis is everything she'd want in a man. However, while Curtis is looking at their engagement as a business transaction, Robin soon finds herself wanting it to be so much more. Can she convince him that love is worth fighting for, or will he let the one person that he's falling in love with get away?
"This whole day has been about playing me. It's cruel, Curtis. You can't put someone's emotions in a blender like this and then…then…"
"I need you." She didn't say a word, just tilted her head and stared at him like an exquisite work of art, or a marksman looking for the perfect place to deliver a bullet for maximum pain. "I know it's not the fairy tale you want, but I need you."
"You need me to make your office run smoothly, not be your wife."
I discovered Ms. Bayley-Burke's books quite a while ago, and am a huge fan of her writing, and this second book in her Invested in Love series was a delightful read where I couldn't help but sympathize with the heroine. She falls for her boss hard, and is not equipped to handle the attention he receives from the paparazzi, so I liked that she holds true to her conviction. That if he can't return the sentiment, than there's absolutely no way she can be with him.
The dialogue was intense due to the main characters back stories, especially that of the hero. He's afraid of getting close to people because those he loves leave, and there were moments where I loved his vulnerability when it came to the fact that he might lose Robin. She's the first person he's comes to trust in a long time besides his housekeeper and foster parents, and I could understand why she gets under his skin because she has so many good qualities that he finds appealing. She's kind, caring, loyal and isn't afraid to challenge him. Can she convince him that fairy tales do exist? Can she show him that he deserves love? Moreover, I liked how close Derek's is with his housekeeper and that the woman who treats him like a son could say whatever she wanted to him. She isn't afraid to tell it like it is, especially when it comes to his and Robin's relationship.
"You have something to lose now, besides your one-way ticket off the paparazzi stalking list."
"Excuse me?" He stepped back, bumping into the wall.
"You said if I wanted love, we'd make it. So we did. And you are afraid of losing that, of losing me."
"Robyn, you're setting yourself up for disappointment again." He uncrossed his arms, leaning against the wall. "I'm not wired to fall in love the way you want me to. We have so many other things, stronger things, going for us."
Overall, Ms. Bayley-Burke has penned a wonderful novel where the strong romance spills over onto the pages in nicely-detailed sex scenes that illustrate how good Robyn is for Curtis. There's no denying their chemistry, and I was cheering for the hero to finally realize that love is worth fighting for, which he does. By helping the heroine with her recovery and the words he gives her, so she'll give him the happy ever after they both deserve. I would recommend The Billionaire's Runaway Princess by Jenna Bayley-Burke, if you enjoy the fake relationship trope.

Book Info:

Publication: February 13th, 2017 | Entangled Indulgence | Invested in Love #2
Robyn Tindall's new boss has a penchant for running off new personal assistants before lunch, but she's not about to let herself be fired by the billionaire with a bad attitude, no matter how good he looks. She's determined to be indispensable and unflappable, until he surprises her with a crazy proposal.
Curtis Frye is impressed with his new assistant's dedication and decides she could be the answer to his publicity problems if only she'll agree to marry him. It's the perfect plan. He can offer her the world—everything he thinks a woman desires. But Robyn doesn't want anything money can buy. She wants a happily ever after with a man who loves her. If only he can convince her love is off the table, not to mention convince his heart of that…