In The Bollywood Bride by Sonali Dev, Bollywood actress Ria Parkar has become adept at hiding her true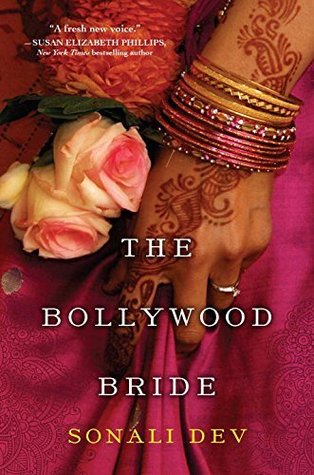 feelings as well as the secrets from her past that could ruin her career. But with her upcoming trip from her native India to Chicago to take part in her cousin Nikhil's wedding, painful memories come creeping back into her head. Specifically, how she had to separate herself from her childhood best friend and the love of her life, Vikram.
'In a moment of startling clarity Ria knew walking away from him had been the right thing to do. He could still smile like that–like happiness lived inside him. Ria hadn't taken that away from him.'
During Ria's emotional turmoil, she gets caught by the paparazzi in a private moment, so her trip to Chicago will hopefully distance her from a possible scandal. Being surrounded by her Aunt Uma, Uncle Vijay and the rest of her cousins buoys Ria's spirits. Until she sees Vikram. Then the loss and heartache they've both felt over the last ten years becomes overwhelming. But once they are in each other's paths again, Ria fears she won't be able to let him go and save him from the insanity of her life and her tortured past.
"…What I went through doesn't matter. It was a long time ago. What matters is what's happening to us now." Hope surged in his eyes again.
The Bollywood Bride was a romance filled with lush detail, culture, and the bonds of friendship where we learned firsthand how one woman's sacrifice changed not only her life, but that of her family and loved ones as well.
'She was a ticking time bomb and he was angry enough to be her fuse. And together they were a tragedy waiting to repeat itself.'
This novel was a full-fledged new experience for me as I've only read a couple of books about Indian culture previously. I've certainly never read one so intricately explained, plus having it set in both India and America was a nice twist. The sense of family during the scenes in Chicago while Ria's cousin Nikhil and his fiance Jen were preparing for their traditional wedding ceremonies was so comforting. And all of the festivities? Magical. The dancing, the food, the traditional clothing and even the wreath ceremony was breathtakingly detailed.
I will warn that parts of Ria's journey will be difficult to read as it deals with some darker issues. Her heartbreaking past and her ability to cope with little or no professional help really made me empathize with Ria's situation. It also explained the choices she made. Was it frustrating at times to watch her hold so much back from her aunt, uncle, cousin and Vikram when they could have helped? Yes. Did I understand why Ria did so? Absolutely. I think readers will definitely have their own opinions on the way she handled things.
Vikram was one of those dreamy heroes that seemed almost a little too good to be true until we learned about how he coped with the ten years he spent apart from Ria. As well as how he treated her when she first came back to Chicago. Not that he didn't have a right to be angry for their breakup. But I came to like Vikram's tenacity and his caring side. His hopefulness in their future as well as his support made all the difference. Plus the story of how they met and the connection they had just brought tears to my eyes.
Sonali Dev's wonderful storytelling will capture readers as Ria and Vikram navigate their way through past hurts to find hope for the future. Highly recommended.
Book Info:

Published September 29th 2015 | by Kensington | Bollywood Series
Ria Parkar is Bollywood's favorite Ice Princess–beautiful, poised, and scandal-proof–until one impulsive act threatens to expose her destructive past. Traveling home to Chicago for her cousin's wedding offers a chance to diffuse the coming media storm and find solace in family, food, and outsized celebrations that are like one of her vibrant movies come to life. But it also means confronting Vikram Jathar.
Ria and Vikram spent childhood summers together, a world away from Ria's exclusive boarding school in Mumbai. Their friendship grew seamlessly into love–until Ria made a shattering decision. As far as Vikram is concerned, Ria sold her soul for stardom and it's taken him years to rebuild his life. But beneath his pent-up anger, their bond remains unchanged. And now, among those who know her best, Ria may find the courage to face the secrets she's been guarding for everyone else's benefit–and a chance to stop acting and start living.
Rich with details of modern Indian-American life, here is a warm, sexy, and witty story of love, family, and the difficult choices that arise in the name of both.