The Boss (Vol. 1 & 2 ) by Cari Quinn and Taryn Elliot  is absolutely hypnotic. Let me start off by saying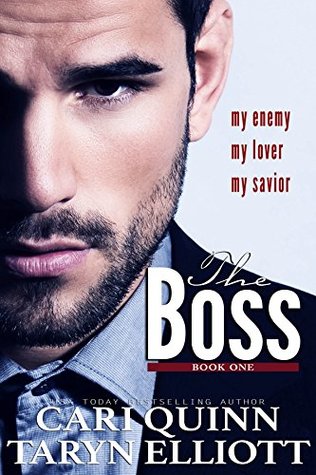 that this is not a full book. It's part of a serial that leaves you with a cliffhanger at the end. You will want to read this novella and the ones that follow. Book one concentrates on Grace's point of view.
When Grace's grandma dies she learns that her house, the one that is willed to her, was sold to billionaire Blake Carson. That house means so much to Grace so she constructs a plan to go to Blake and reason with him. He has something of hers and she's willing to do anything to get it back, even if that means applying for the position of his assistant. Blake goes from enemy to boss all in one day.
Grace and Blake have some serious chemistry going on. There were a few moments where I thought my kindle was going to catch fire because these two were so hot together. All these intense feelings Grace is experiencing is making her confused because Blake is her enemy….or is he? Both characters will entice you into their story and the only thing you can do is hang on for the ride.
Book two continues right where book one left off, but now switches to Blake's point of view and all I can say is wow! Blake knows something is up when Grace offers her skills as his assistant. Turns out Blake has been watching Grace for quite a while.
"She was precious cargo, one I'd been entrusted with many years ago."
Blake realizes he's getting too close to Grace and takes a step back. He tries to keep his distance but sooner or later, their attraction to each other makes it impossible. He needs her, but also needs to know why she came to him in the first place.
Blake and Grace crave each other. It's like there are a drug to each other. The chemistry between them is only getting stronger and I have a feeling it's only going to get more intense from here on out.
I don't usually read books with cliffhangers because they leave me wanting, but The BOSS is well worth the wait.
Book Info:

Publication: October 27th 2015 & November 19th, 2005 | Rainbow Rage Publishing | The Boss #1&2
I've always been a good girl.
I've only done two really bad things in my life–secretly live in the maid's quarters of my beloved grams foreclosed beach house and lie to get a job as a personal assistant to billionaire Blake Carson.
My enemy, my lover, my savior.
He's only two out of the three, if only I can figure out which two before I end up on the streets or in jail.
Or worse.
I've been watching…all this time.
I grew up as the bastard son on the wrong side of the tracks. Until an angel I could never repay helped me climb to the top.
My new assistant, Grace Copeland, is determined to bring me down. She thinks I don't know about her lies and the risks she's taking, but I've been watching all this time.
Watching her.
Soon she'll realize that being on top is where I belong—and where she'll beg me to be.