The Boss: Book Three by Cari Quinn and Taryn Elliot picks up where book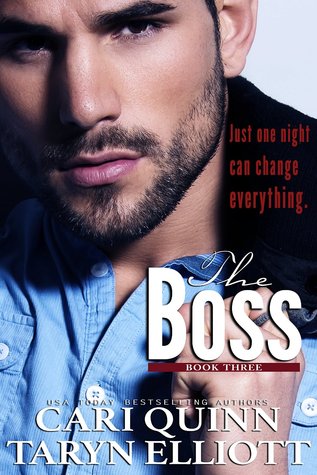 two leaves off. In this case, Blake has just fired Grace and now Grace is left reeling. Grace goes back to her grandma's house but can't forget Blake. Nothing makes sense. She's only known Blake for a few weeks but has such strong feelings for him and his reaction to her keeps her confused.
"I've known your name, longer than I've known my own."
Grace has no idea how that is even possible, but it looks like Blake will be keeping that secret just a little bit longer.
With no job and nowhere to go, the only thing Grace can do to keep sane is pour her emotions into her art work. The finished project is unlike anything she's ever done before and eventually sells for a high price. Guess who buys it? Yep…Blake! Tempers flare and hot sex ensures. Maybe now they can actually talk things through…or not.
Book three leaves readers with one heck of a cliffhanger…the mother of all cliffhangers. Someone breaks into the house while Grace and Blake are there and things don't end well. The authors left this reader full of anxiety at the sound of gunshot. I will be sitting on pins and needles until the next addition is released.

Book Info:

Publication: December 10th, 2015 | Rainbow Rage Publishing | The Boss #3
I used to be a good girl. Until he tempted me to be bad…
Just one night.
It only took one night to lose my grandmother, the most important person in my life.
Just one night.
That mind-blowing night locked in with my alphahole boss, Blake Carson, made me start to crumble. To forget why I'd made the choices I had and what was at stake.
Just one night.
I risked everything in our seductive game of cat and mouse. Until he cut me loose.
Just one night.
Now he's back, and he's the only one who can save me…or let me fall.
A SIX PART SERIAL with dual points of view, lots of bad words, the creative use of glass-walled rooms, and a beach house that holds a whole lot of secrets. There are all sorts of cliffs in these books, some even include actual rocks. You have been warned.