In The Boss Vol 4 by Cari Quinn and Taryn Elliot, we're back to Blake's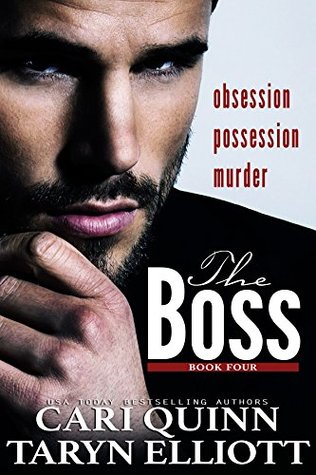 point a view. We also find out exactly what happened when Vol 3 left off with the gun shot. Don't worry readers, Blake is fine.
Blake is upset that someone has been in his house, especially when Grace has been there. If only, he was able to catch the guys that broke in. But don't worry, he has a few clues to lead him in the right direction. Although, one clue points to someone very close to him.
Even though Blake fired Grace, he can't seem to stay away from her.
"She was like a siren, luring me to wreck on the rocks below."
In Vol 4, Blake lets Grace know about his connection to her grandma and why her house is so important to him. He also pushes Grace away to protect her, but it doesn't quite work out the way he meant to. We see more of his mother and her new man, who by the way, might be involved in the break-in. We just don't know yet. We'll have to read the next installment for more answers.
What we do know, is that this ends in another shocker. Someone is missing.
"I would make a deal with the devil himself if he would bring her home to me, safe and sound."
I'm afraid it might just come to that. I will definitely be counting the days until the next part of this serial is released.
Book Info:

Publication: January 8th, 2016 | Rainbow Rage Publishing | The Boss #4
She is my obsession. But someone else is obsessed with me…
I'm used to being in charge. With money comes power, and I have plenty of both.
But one person doesn't bow down to me. She challenges me at every turn and drives me insane with longing.
She's my assistant, Grace Copeland, and she wants something that, by rights, is mine.
But others are also after what is mine. And I'm willing to do whatever's necessary to protect what—and who—belongs to me.
Including Grace.