The Boyfriend List by Jeannie Moon: Jeannie has created a charming, heart-warming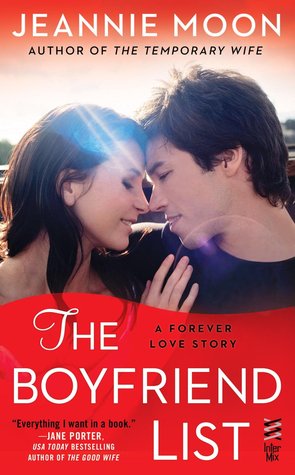 story. Despite being a billionaire, Nate comes across as the boy next door. He's sweet, loyal, and fiercely protective of those he cares about, especially Jenna.
Jenna has baggage from her ex boyfriend who ran away with her money. As a result, she doesn't want to have feelings for another rich man. Nate manages to break down the barriers she puts up, allowing her to finally trust her choices, and him.
Nate and Jenna were great together. Their initial attraction blossomed into a great love. They were able to work together to overcome the obstacles that stood in their way, including their families.
"Whoa. He just told off her mother–no hesitation, no worry about taking a stand. No one had ever done that for her. Damn."
My only issue with the book is that there are a couple of storylines that didn't feel complete. One was the story of Jenna's ex, Royce. He makes an appearance at the picnic held at Nate's family horse ranch. There's mention of him being looked into, but then it's just dropped. I would have liked to have seen Royce pay for what he did to Jenna and to the other investors he ripped off.
Then there was the hostility between Jenna and her best friend's husband, Owen. At one point Jenna overhears him questioning her and her relationship with Nate, basically accusing her of being a gold digger. Nate sticks up for her, but we never see Owen apologize for his behavior and for the harsh words he spoke about Jenna's family. He eventually apologizes to Nate, but he really should have apologized to Jenna.
The Boyfriend List by Jeannie Moon is the fifth book in the Forever Love series, but can be read as a stand alone. I haven't read any of the previous books but had no trouble following along. It did, however, make me want to go back and read the stories of the other couples featured in this book.
Book Info:

Publication: July 21, 2015 | InterMix | Forever Love #5
Jenna Albanese planned it all out at thirteen when she listed the qualities she wanted in her perfect man. Years later, she thought she'd found him. When all she got was a broken heart, Jenna tucked away the boyfriend list—and her belief in happy ever after.
Nate Bayard has a life most people only dream of—he's a handsome high-caliber polo player and partner in a multibillion dollar business. But as intelligent and confident as he is on the field and in the boardroom, he's hopeless with women—until he meets the sweet and funny Jenna. She's just about perfect, and Nate's determined to make her his. There's just one little problem. Jenna's unwelcome past is about to make a comeback.
For Jenna, overcoming her mistrust in men—particularly rich ones—isn't going to be easy. Then she comes across that old boyfriend list and realizes that maybe it's time for another look and a few changes to bring a brand new beat to her romantic heart.