The Bride Wore Crimson (Weddingville #2) by Adrianne Lee is not your run of the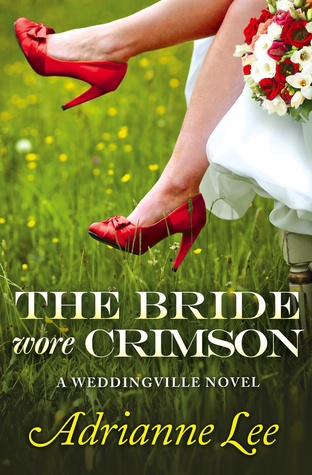 mill romance. This who done it is filled with laughter, shock, theft, finger pointing, and murder in the middle of wedding fever. The characters are endearing and the town of Weddingville will worm its way into our heart.
When wedding fever overtakes Weddingville during the height of the wedding expo, everything that could go wrong does. Priceless cake servers are stolen, wedding invitations go missing, a cursed wedding ring is snatched and someone ends up dead in the flower cooler. Fingers are pointed in all directions and the tongue of the Weddingville gossips are wagging as everyone tries to figure out who could be the person responsible.
In order to help her friend Meg finally get her HEA with the man she has loved since high school, Daryl Anne will need to put on her super sluth hat and get to the bottom of this mystery before its too late.
The conversations that Daryl Anne has in her head are laugh out loud funny. I loved the interaction with her and the other members of the town. Her relationship with Seth really takes off as well in this story as well. There are so many moving pieces and a lot going on in this story, but all the pieces fit together brilliantly and makes for an amazing mystery with a very HEA.
Book Info:

Publication: November 10th 2015 | Forever Yours | Weddingville #2
EVERY BRIDE WANTS A KILLER WEDDING
Weddingville, Washington, is in the throes of its annual bridal fair. For Daryl Anne Blessing, that means soothing the high-strung brides-to-be who have taken her family's dress shop by storm. Hunky photographer Seth Quinlan is around to provide eye candy and witty repartee—but it's no laughing matter when a diamond ring set disappears from the Ring Bearer Jewelers, followed by a designer gown from Blessing's Bridal Shop.
Daryl Anne hopes the thefts are just the work of a prankster poking fun at the wedding fever that's overtaken the town. But Weddingville's shopkeepers can't afford for the bridal fair to lose its luster. Then business takes a dark turn when a bride is found dead in Flower Girl Florist's fridge. Now, with Weddingville's romantic reputation on the line, Daryl Anne and Seth turn up the heat on their own simmering attraction—and a killer determined to make bridezillas a dying breed…