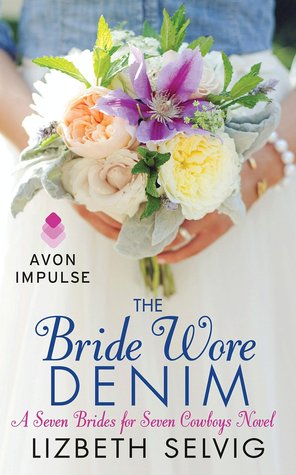 The Bride Wore Denim (Seven Brides for Seven Cowboys #1) by Lizbeth Selvig is a wonderful story about friends to lovers. It touchs the heart of family, friendship and a community pulling together. This is the first book in the Seven Brides for Seven Cowboys series and this is the story of Harper Lee and Cole.
Harper has always been a dreamer. The sister with her head in the her herds, creative, a painter, and lover of nature and beauty. Always feeling like the odd one out, she can never seem to fit in with her sisters. The only thing thing that they seem to agree on is that although they loved their father, he never seemed to love them back. When tragedy stikes and their father dies, it brings all 6 sister home. They need to decide with to do with the struggling family farm, and Harper needs to decide what to do with the love and feelings that she has always had for her older sisters ex, Cole, the boy who was her friend, the man who sets her heart racing and her body on fire with just a little smile.
Cole has always been interested in Harper, has always found her fascinating, but both families had their hearts set on a union between Mia and Cole. After years of on and off dating, they both decided that they were better off as freinds. Now Cole has a focus on getting his family farm, the Double Diamond back from Harper's family. But when Harper's father passes, and the farms look like they are in deep financial trouble, Cole and the other foremen step up to try to find solutions to save what has been in the families for generations. His growing feelings for Harper thrown in the mix and Cole has to work to convince Harper that he is not sister hopping, that the feelings that they have for each other are strong, true and forever.
What I loved about Cole and Harper is that they are so alike. They both care about family, friends, and the environment. Harper has a hard time letting got of the "sister code" that you don't get involved with your sisters ex, and given that the sister is Mia, the one sister that Harper has had the hardest time ever getting along with, it makes her feel even worse about her feelings for Cole. Cole is paticent and loving and helps Harper work through her issues. There are side stories going on throughout the book and the other sisters are introduced as well, so we get a little insite to the family dynamic.
This book is a funny, sweet, family filled loving HEA that makes me want to read the rest of the series. Great for a summer vacation read, I give this wonderful book 4 super stars.
Book Info:

 July 21st 2015 | Avon Impulse | Seven Brides for Seven Cowboys #1
When Harper Lee Crockett returns home to Paradise Ranch, Wyoming, the last thing she expects is to fall head-over-heels in lust for Cole, childhood neighbor and her older sister's long-time boyfriend. The spirited and artistic Crockett sister has finally learned to resist her craziest impulses, but this latest trip home and Cole's rough-and-tough appeal might be too much for her fading self-control.
Cole Wainwright has long been fascinated by the sister who's always stood out from the crowd. His relationship with Amelia, the eldest Crockett sister, isn't as perfect as it seems, and with Harper back in town, he sees everything he's been missing. Cole knows they have no future together—he's tied to the land and she's created a successful life in the big city—but neither of them can escape their growing attraction or inconvenient feelings.
As Harper struggles to come to grips with new family responsibilities and her forbidden feelings for Cole, she must decide whether to listen to her head or to give her heart what it wants.