The Bridesmaid And The Bachelor by Kris Fletcher: Kyrie craves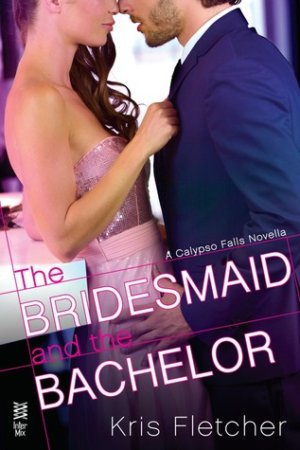 stability and took a gamble (for her) when she opened her coffee shop. In a bid to free herself of a loan, she agreed to switch places with her twin as a bridesmaid. While Kyrie is uncomfortable with lying, she's also hoping to play her role with no one catching on. It seems like this crazy plan just might work, until Ben arrives.
Ben is a dedicated scientist who enjoys traveling and exploring. He's also known for playing pranks on others, which leaves his soon-to-be sister-in-law nervous. As the best man, Ben has promised to be on his best behavior for the many wedding festivities. Ben thought that would be easy enough to do, until he realizes that Kyrie is posing as her sister.
"That's your condition?" Sex was looking better and better.
"Yes, ma'am. You tell me why you ran out on me after what I thought was a pretty amazing week. In return, I'll help you keep your secret."
Yep. Sleeping with him again would be a lot easier. More fun, too.
Ben and Kyrie shared an amazing week together a few years ago until Kyrie suddenly disappeared. As Ben reluctantly agrees to help her out, they are forced to spend time together and play their parts for the sake of the bride and groom. They share a compelling chemistry that they couldn't ignore then or now. Neither are looking for a relationship, but they have to consider if what they still share is more than another fling.
The Bridesmaid and the Bachelor is a fun and sexy second chance romance. Kris Fletcher created an engaging story with good banter. Ms. Fletcher developed interesting characters in what promises to be charming new contemporary series. Fans of Katie MacAlister and Jenna Bayley-Burke will enjoy The Bridesmaid and the Bachelor.
Book Info:

Publication: November 15th 2016 | InterMix | Calypso Falls 1
In this all-new contemporary romance series, the five Elias sisters of Calypso Falls, New York, discover that love sometimes arrives in surprising ways…
The bride may be the one to wear a veil, but this time it's the bridesmaid who has something to hide. Kyrie Elias has agreed to pretend to be her twin sister in a friend's big fat Vegas wedding. Pulling off this deception could mean a chance at love for her sister and the forgiving of a loan Kyrie needs to save her struggling coffee shop back in Calypso Falls. But she didn't count on the wedding party including gorgeous groomsman Ben Sitka, the sexy scientist who came close to stealing her heart two years ago.
Ben would know Kyrie anywhere. The electric connection between them is something she can't disguise, and something he's never forgotten—not since she ran out on him after a week of bliss. Now he vows to give this bridesmaid a reason to blush. He's willing to keep the secret of her true identity, but he's also determined to expose her true feelings for him, hoping that Kyrie will come to see that the person she's most deceiving is herself.
Includes an exclusive preview of the debut novel in the Calypso Falls series, Life of the Party.