The Bridesmaid's Baby Bump by Kandy Shepherd: Three times they've met and three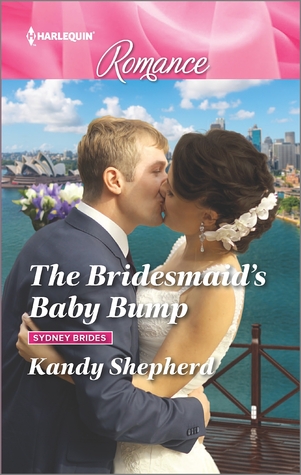 times they've desired one another, but each time Jake has still been in stages of divorce. In the final meet, he promised he would contact Eliza after the divorce was finalized, but when he didn't, Eliza once again lost her hope in love.
But soon enough, Jake tracks her down and they spend an amazing four days together. However, what they thought would be a fling becomes so much more when Eliza, who was told she was infertile, becomes pregnant.
Now she doesn't know what to do, only that she won't marry for anything but love, nor will she ever let a man control her again. And it looks like that's exactly what Jake wants to do. Each control freaks, learning to compromise has never been so important.
'No. Make your call. It's late. I have to go.'
She doubted he'd guessed the intensity of her disappointment, how much she'd had pinned on this meeting—and she didn't want him to see it on her face. She turned, picked up her long, full skirts and prepared to run.
Then Jake took hold of her arm and pulled her back to face him. 'Don't go, Eliza. Please.'
I started off liking The Bridesmaid's Baby Bump, but it took a wrong turn. What could've been a great journey of these two learning to let go of their tight holds on their lives, becomes a rushed ending where all the issues in their relationship disappears.
They're never really together, and when they are, they're never fully honest or open with one another. I just can't believe in this love match. I wanted to enjoy this story because I liked where both were coming from, but the relationship just didn't develop for me. This story held a lot of promise for me, I just wanted more.
For those who love a billionaire or a pregnancy I recommend The Bridemaid's Baby Bump, it's got those down. The third in a series, you don't need to read the other two to enjoy this one. But it sounds like a cute series surrounding the "Party Queens," and I know I'm interested in trying out the other two.
Book Info:

Publication: July 5, 2016 | Harlequin Romance | The Sydney Brides #3
The billionaire bachelor's baby!
When party planner Eliza Dunne meets billionaire Jake Marlowe at a wedding, she decides to finally give in to the sparks that have always fizzed between them!
The connection is so intense that Jake can't resist Eliza—but with the divorce only just final after his unhappy marriage, he's not ready for anything serious. But when Eliza tells him her shocking news—she's pregnant with his baby!—he has one certainty: he wants to be at the center of his new family, as a husband and father…