The Cad and the Co-Ed by Penny Reid and L.H.Cosway is the third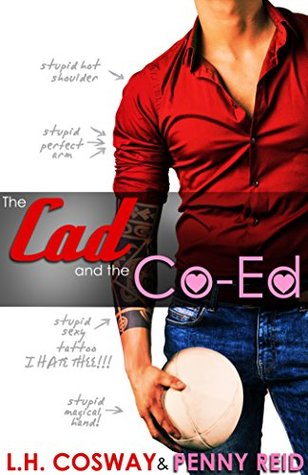 standalone romance in their Rugby series. It's got a redemption storyline (my favorite!) and a secret baby trope (umm… not my favorite but I gamely put on a 'baby on board' t-shirt with fingers crossed). The consequences of one night together can have far reaching consequences and when told by this author duo, the result is a grand mix of laugh out loud scenes, emotional moments, and a sweet and sexy romance.
Eilish Cassidy made a mistake. She knows it as soon as she wakes up from the best night of her life having given her virginity to her long time crush, rugby player Bryan Leech, only to discover he's hung over with no memory of the night before. Telling her to close the door on her way out, it's a rude awakening for her. And that mistake is compounded a few weeks later with the knowledge that she's pregnant. With support from her cousin Sean (also a rugby player and Bryan's teammate), she raises the baby for a few years on her own, moving to the US and getting her physio degree but with the condition that she'd move back to Ireland when she finished college. She also promised she'd let Sean help her find a place to live and get a job. That job turns out to be an internship with the Irish National Rugby team where she knows she'll be up front and personal with Bryan again – the father of a 4 year old boy he knows nothing about.
Bryan Leech is a changed man. Once a hard drinker and partier, the last two years have seen him sober up after hitting rock bottom and being threatened with dismissal from the team. Joining Alcoholics Anonymous he takes things one day at a time and has sworn off romantic relationships of any kind while he gets his life together. I mean, if he can't even keep a plant alive, how will he be able to nurture a relationship? But that doesn't stop him from feeling an instant attraction to a beautiful redhead at a team party – a woman he feels a vague sense of deja vu about, but can't place. Even odder, she doesn't respond to his legendary charm (admittedly, he's a bit rusty) and seems to be going out of her way to avoid him. Finding out she's Sean Cassidy's cousin, and the new team physiotherapist should put the brakes on his attraction but it's just the opposite. All he wants is to take her out on a date. But when she drops the bombshell of their past on his lap all bets are off. Now he wants not just a date, but a chance to prove to Eilish that he can be a father to his son, and that he's the man for her.
I really enjoyed this story! While a secret baby plot doesn't always work for me, the pregnancy is revealed right away and Bryan finds out that Patrick is his son in the first part of the story so it's not a secret that is held onto for too long. And to his credit, Bryan doesn't blame Eilish for not telling him right away. He knows that he would have been in no shape to be a father at that time in his life. While he is miffed that his teammate Sean didn't tell him when he sobered up and started taking responsibility for his life, he understands too that it was not Sean's decision to make. All in all, Bryan deals with the news in a mature and practical way and this goes a long way to easing Eilish's mind, and opening her heart to him. He really is a reformed man, and the new Bryan is very likable, a down to earth, humbled (but still very charming, and sexy and handsome) guy.
Four year old Patrick is a scene stealer! He might be one of the cutest children I've met in a story, a little boy clearly influenced by his dapper uncle Sean (whom he calls Monkey Sean, a play on Uncle Sean that stuck). His acceptance of Bryan as a friend of his mum is open and honest and there are some very sweet and funny scenes between them that are rather heart melting (for Bryan too). Clearly Bryan feels unconditional love for his newly revealed son and wants to be a part of his life.
I really liked Eilish's character. She had to grow up fast finding out she was pregnant at 19, especially when her mother did not support her choice to raise the baby and kicked her out. She's done admirably well as a single mom, and she's a strong and confident woman. She has a challenge in dealing with the misogynistic and lazy head of the team's physio department, and sticks up for herself well. Her attraction to Bryan is no mystery (it's what got her in trouble in the first place!) and while at first avoiding him at work seems to be the answer, it doesn't last long. Bryan wears down her defenses and they share some steamy scenes together. Bryan sorely regrets not remembering their first time together, and does an admirable job of making it up to her. But what's also important is that forgiveness flows both ways and they make a start at a new future together.
Being a sports romance, there are several scenes on and off the rugby pitch that show a keen understanding of the game and the team dynamics. Even if you aren't familiar with the sport, you'll have no problem following the action. This particular story deals with the day to day realities of games and injuries and player friendships.
Naturally there are going to be conflicts between Eilish and Bryan, especially so when their families get into the mix. Misunderstandings ensue and it makes for some tense moments in the second half. But Bryan and Eilish eventually get past these things and we get a lovely happy ending for this ready made family. If you like single parent romances, heroes in pursuit, flawed characters who make up for past mistakes and handsome brawny rugby players, you'll definitely want to give this one a try!

Book Info:

Publication: Feb 12, 2017 | Self Published | Rugby #3
Keeping a secret this big is going to take lots of balls. Specifically, rugby balls.
THE CAD
Bryan Leech is a cad.
Or, he *was* a cad.
No one is quite certain.
Once the quintessential playboy, Bryan claims he's done with wild parties and weekend benders. No more one night stands leading to mornings he can't remember; no more binges and blackouts; no more exploits plastered all over the tabloids and rag sheets. According to Bryan, he's cleaning up his act.
The only problem is, no one believes him.
THE CO-ED
Eilish Cassidy never thought she'd be a mother at nineteen or still in college at twenty-four. Cut off from every member of her family except her favorite cousin, she's finally managed put her life back together. Stronger and wiser, Eilish enters her last semester of university determined to stand on her own. Now she just needs to find an internship.
The only problem is, her best option—by far—places her directly in the path of her son's father, and he doesn't remember her at all.
THE PLAN
Bryan is determined to prove he's changed. Eager to settle down with the right woman, he's got his sights set on the gorgeous redhead who seems terribly familiar.
Eilish is determined to hide her secret. She'll do anything to keep her child safe, even if that means ignoring her own wishes and desires.
But what happens when Bryan starts to remember? And what will it take for Bryan to convince the girl he forgot that she's unforgettable?