The CEO by Victoria Purman: Ava Gibson knew it was wrong to lust after her sister's ex-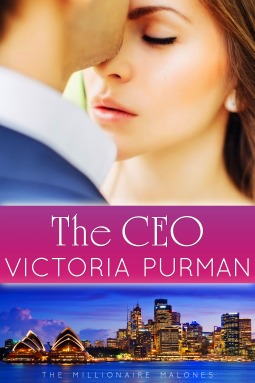 husband, but it had to be better than lusting after him when they had been married, right? At least he didn't have a clue, at least he though she hated him. That would keep her safe. Callum Malone knew he didn't have a clue about women. His disaster of a marriage proved that much to him. He did know that he was having fun teasing his ex sister in law though and that meant he needed to keep her around a bit longer.
So when Callum hired Ava to complete his landscape would everything come up roses? Or would the mudslides begin?
The second in the Malone Millionaire's series, Ms. Purman has done an outstanding job on this novella. She has made it strong enough to stand on it's own while further expanding some of the great roles from the first story. This novella really focuses on the characters and how they internally think, there are a lot of internal byplays that go on.
The CEO by Victoria Purman is a great quick and happy read that will make you smile and of course wait for the third story.
Book Info:

Published July 2nd 2015 | Tule Publishing | The Millionaire Malones series Book 2
CEO Callum Malone has it all: power, Italian suits, a house on one of Sydney's stunning beaches and a new life without a woman in it. Just the way he likes it, ever since his nasty divorce.
Landscaper Ava Gibson is in no position to turn down a job, even if it is for her despised ex-brother-in-law. But when resentment gives way to underlying attraction, Ava is finally forced to confront her truth… she's falling for him.
Will Ava be able to keep her growing desire in check? Because the irresistible Cal doesn't want her to…