In The Charmer (Harbor City #2) by Avery Flynn, Hudson Carlyle isn't used to women not falling for his legendary charm. However,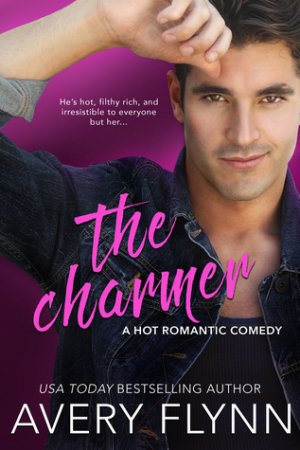 the one woman he wants is immune and unless he can find a way to win her over, he's never going to have a chance with Felicia Hartigan. Coming up with a plan is easy, especially when it seems she's already interested in another man. So, if in helping her land said man, she begins to see Hudson as more than just someone willing to help her than even better. Yet, the more time they spend together, the more Hudson is determined to win Felicia's heart. But with the secret he's keeping even from his own family, will Felicia understand his reasons for keeping quiet or will they lose their chance at happy ever after?
="Look, Matches, there's no doubt about it, my ego is huge, but my reputation is well earned." He studied her gaze carefully. "No one else out there can help you get Tyler as well as I can. You've been trying for years, haven't you?" He watched, fascinated, as her skin turned rosy. "Yeah, that pretty pink blush tells me everything I need to know. You want him, and I can make sure you get him."=
Just like the first book of this series, Ms. Flynn has penned a wonderfully amusing, fast-paced, utterly spellbinding read in this second story of her Harbor City series, which was absolutely mesmerizing from start to finish and was a story I could not put down for even a second. The way this story started had me charmed by the hero immediately, as his interactions with his mother had me smiling and laughing at their banter. Clearly, he thinks his charm works on everyone and it's palpable his mother is immune to it and isn't afraid to tell him her opinion. However, it was from the moment the hero and heroine come face-to-face for the first time in this book that made this story a total page turner, as Felicia and Hudson have such incredible chemistry that it just made me want to discover more about each of them and to see what direction Ms. Flynn would take their relationship.
As for the dialogue, it was well-written and a enchanting combination of intense moments and playful banter that kept increasing the sexual tension between this couple until their intense chemistry spilled over onto the pages explosively with sex scenes filled with plenty of exquisite heat and passion that did justice to this couple's chemistry. Moreover, the main characters were fantastic and I loved every moment they conversed, because Hudson is definitely quite the charmer when it comes to winning Felicia over and showing her that he's the right man for her. Really, he's confident, tenacious and I liked discovering his secret, as there's no doubt Hudson has awesome talent when it comes to what he's kept hidden from his family. I also liked how close Hudson is with his family and how accepting they are when it comes to everything the hero has done in his life.
"That's enough," she said, her voice a quiet squeak. "What are you, the Non-Relationship Police?"
He waited a beat, just long enough to watch her skin return to its pale, creamy color. Then, unable to stop himself, he teased. "I'm your fairy godmother wrapped in this extremely awesome, sexy package. It's okay to swoon a little. I won't judge."
Her jaw muscles worked overtime fighting a smile before she said in a low tone, "Let me guess, your massive ego turns into a magic wand?"
"That's not what most women call it – well, except the 'massive' part." He winked and almost laughed out loud when her eyes widened.
While the heroine, she's from a large family and has always felt like the odd one out, so she's had to work hard for everything in her life including her career. Yet, she's smart, sassy and I liked how determined she was to resist Hudson, even though it seemed giving in was inevitable. I also liked how her family was there for her when she needed them and the suggestions they made when it came to the moment things went awry with Hudson. They had me laughing, especially when it came to the heroine's siblings wanting to unleash the full force of the Hartigans on Hudson. Would Felicia agree with the suggestion?
Overall, Ms. Flynn has penned another incredible read for this series where the chemistry between this couple was formidable and kept me entertained from start to finish as they get to know each other better; the secondary characters were as captivating as Felicia and Hudson; and the ending of this story had me cheering for this couple's happy ever after, because of what brings the hero and heroine back together since nothing expresses Hudson's love for Felicia more than the unveiling of his secret talent and how he's used it to show his love for her. However, it was the epilogue that wrapped this story up perfectly, as it shows how far Hudson and Felicia have come in their relationship and the surprise the heroine has for the hero. I would recommend The Charmer by Avery Flynn, if you enjoy the opposites attract trope or books by authors Kimberly Kincaid, Robin Covington, Penelope Ward and Lauren Blakely.

Book Info:

Publication: September 25th, 2017 | Entangled Publishing | Harbor City #2
Hot, filthy rich, and usually irresistible, Hudson Carlyle just met the one woman in Harbor City who's immune to his legendary charm. Nerdy ant researcher Felicia Hartigan is the unsexiest dresser ever. She trips over air. And she's in love with totally the wrong man. Hudson can't stop thinking about her.
His regular moves won't work here. He's going to need a new plan, starting with helping her win over the man she thinks she wants. And if in the process she ends up falling for Hudson instead? Even better. Step one, charm her panties off. Step two, repeat step one as frequently as possible.
But what if the famous Carlyle charm finally fails him when he needs it most? Or worse, what if she figures out the one secret he's kept from everyone, including his family, and walks away for good?