In The Christmas Bouquet (Chesapeake Shores #11) by Sherryl Woods, Getting pregnant while in medical school was not in Caitlyn Winters'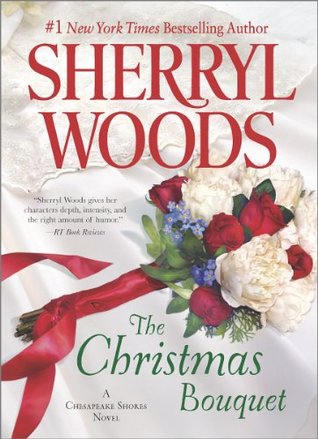 five year plan. She loves her boyfriend Noah McIlroy, a resident at the hospital, very much and can even see them being a long-term couple. But Cait had plans to go back to Africa, to fulfill her promise to a small village of bringing medical supplies and assistance for them in the very near future. Noah is overjoyed with the news of their impending miracle and sees things a bit differently than Cait. He can't wait to get married and settle in to their own house, plus start a medical practice in a small town somewhere nearby.
"You have dreams on the line, too, Noah. I'm not the only one who had the future mapped out."
"That's true," he said without hesitation. "But for me, you've been a part of that future practically from the moment we met. This baby?" A smile lit his eyes. "It's just an unanticipated blessing. I'll do whatever it takes to make everything work out for us."
But telling Caitlyn's family, the boisterous O'Brien's, is just the tip of the iceberg in her struggle to figure out what to do. She knows they'll eventually support her in this journey, but Cait isn't sure how she can fulfill her dream of returning to Africa and balance being a good mom at the same time. Noah knows it will take love and patience to find a way to work things out between them. Between Cait's family intervening, her crazy hormones, and the start of Noah's new family practice, he'll have his hands full convincing everyone that he knows what's best for the love of his life.
'Noah had done everything to earn Caitlyn's trust. The love she felt for him was strong and enduring, the kind meant to last a lifetime. Surely she could hold out her hand and take that leap into the future with him, for the sake of their child and because that's what people in love did.'
The Christmas Bouquet is a sweet holiday romance in Sherryl Woods' super popular Chesapeake Shores series. Both of our protagonists had to come to terms with an unexpected pregnancy, the changes it made to their future plans, and pressure to marry from the loving–but pushy–O'Brien clan.
Sherryl Woods has a way with family stories set in small towns. I can pick up one of her books and know it will have a strong plot, solid characters, and tons of charm. And reading about the O'Brien clan is always a treat. Their antics keep me on my toes and in stitches most of the time. But what I really like about this series/family is how everyone rallies around each other when there is a problem. Caitlyn was so worried to announce her pregnancy to the family, but I knew it would work out fine. They might have been shocked that the "good" twin, who was so focused on her dreams of becoming a doctor, found herself pregnant. But they soon found out she was in a committed relationship with Noah, and he fit in with the family wonderfully.
"You love Noah. You're having his child. But you'd rather cut him out of your life and be a martyr to this cause of yours, instead of trying to find a way to be together, especially if the solution requires you to give up anything, even for the short term."
I think the only sticking point in the story for me was how Cait came across as selfish at times. I can understand how upsetting it would be to have to make so many changes in her plans, but she seemed a bit unwilling to bend or even consider putting her travel to Africa on the back burner for a couple of years. I can honestly say that if I were Noah, I'm not sure I would have been so patient. However, Noah *was* a generous, patient guy who definitely had Cait's best interest at heart. And it kind of made me melt a little bit at how happy he was that they were pregnant. His joy was absolutely contagious and made me pretty sure he would help Caitlyn see that they could compromise and make it work between them. If they could keep Grandpa Mick from meddling in their relationship, that is!
I think fans of tender romances will enjoy their time spent with the O'Brien clan this Christmas season. I know I certainly did, and look forward to what's next for this entertaining group of people.
Book Info:

Published October 1st 2014 by Harlequin MIRA | (Chesapeake Shores #11)
When it comes to family and Christmas, #1 New York Times bestselling author Sherryl Woods always looks to the O'Briens for a little holiday magic
For the very driven medical student Caitlyn Winters, catching the bridal bouquet at a Christmas wedding has set off a chain reaction that she's sure is more curse than blessing. Not only has she fallen in love with family medicine resident Noah McIlroy, but an unexpected pregnancy threatens her well-laid plans for the future. It doesn't help that Noah with a whole lot of help from her O'Brien relatives is completely on board with the prospect of marriage and happily-ever-after.
It takes a whole lot of patience, love and family persuasion to help Caitlyn realize that she can still have everything she ever wanted, including a home in her beloved Chesapeake Shores and a man who understands all of her dreams.
"Love, marriage, family, and forgiveness all play an important part in Woods's latest richly nourishing, holiday-spiced novel." Chicago Tribune on A Chesapeake Shores Christmas