The Christmas He Loved Her by Juliana Stone: Sometimes there are stories that touch your heart, make you sad, make you laugh, or make you sigh. "The Christmas He Loved Her" by Juliana Stone is one of those books. The second in the Bad Boys of Crystal Lake series,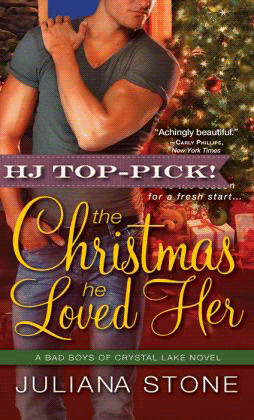 this book was even better than the first book. Let me tell you about Jake and Raine.
"I think I've been in love with you since we were kids.
Jake Edwards is an ex-Army Ranger who is still reeling from the death of his twin brother Jesse. Add to that the fact that he has been in love with his brother's widow, Raine, for most of his life, and he blames himself for not being able to save Jesse from the bullet that took his life. Trying to outrun the demons and the guilt that plagues him, he left his parents, his friends, his home town, and Raine a year and a half ago, but no matter the distance, he can't change the past. He also can't outrun the love that he feels for Raine.
"I love you, Jake Edwards. I've always loved you. It doesn't lessen what I felt for your brother or cheapen the time I had with him.
Raine Edwards can't seem to function without Jake. Loosing Jesse broke Raine, but without Jake, she is not sure she can survive. Trying to make it day by day, to hide the pain of the love that she feels for Jake, that she has comes to realized that she has always felt for Jake, to hide the pain of a secret loss that she has not shared with anyone. Well now Jake is back and neither one knows how to erase the pain that they have caused each other, but they both realize that neither are complete, or at peace without the other. Can they learn to let go of the past, the guilt, the fear and forgive themselves so that they can find love again?
Ok, I loved Jake and Raine ever since I first met them in the first book of this series. I loved them even more by the end of this book. They are both broken and hurting and turn to each other for comfort, but when Jake runs, feeling that he has in some way betrayed the memory of his dead brother, Raine is the one left alone, and broken and confused. I love that they did not just brush the past and their issues under the rug but faced them head on and came out the other side stonger because of it. I loved how they, with the help of their family and friends, were able to forgave themselves for being the ones that survived when Jesse didn't.
I would recommend this book, this series and this author and I cannot wait until book three is released next year.
Book Info:

 HJ Top Pick
Published October 1st 2013 by Sourcebooks
All he wants this Christmas is her.
In the small town of Crystal Lake, Christmas is a time for sledding, hot chocolate, and cozying up to the fire with those you love. For Jake Edwards, it's also time to come home and face his past. He thought there would never be anything harder than losing his brother. Turns out there is: falling in love with his brother's widow, Raine.
Ever since they were little, Jesse was the Edwards brother who was always there for her, and Jake was the one who knew just how to push her buttons. Raine can't imagine a life without them, which is why it was doubly decimating when Jake left town after his brother's sudden death. Now he's back and she doesn't know whether to be mad or thrilled. Maybe both. Maybe it will be the perfect chance for both of them to finally find happiness again.