In The Closer You Come (The Original Heartbreakers #1) by Gena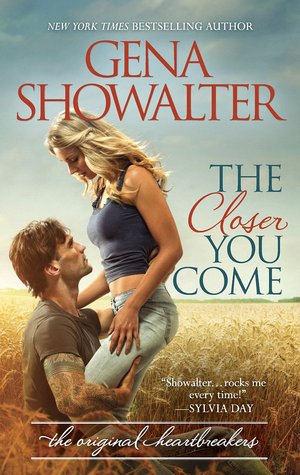 Showalter, Jase Hollister has followed his best friends Beck and West to Strawberry Valley, Oklahoma, in hopes of finally having a home and peace in his life. His nine year stint in jail for a mistake in his late teens changed him, but he is determined to be someone his friends can look up to and rely on. Jase is brought to his knees the day he meets Brook Lynn in less than welcoming circumstances. No matter how hard he tries, he can't let go of his attraction to her. He has no choice but to find a way to convince Brook Lynn that they are meant to be together.
"You know I love you," he said. "But I'm not sure even love is a strong enough word for what I feel for you. You've wrecked me, angel, broken me and put me back together again. I will never be the same — I don't want to be the same."
Brook Lynn Dillon has struggled all her life to keep her older sister Jessie Kay out of trouble and to keep them fed and with a roof over their heads. She longs for the day when she's swept off of her feet by a steady, dependable man who will love her for who she is. Flaws and all. Jase Hollister should not even register in her head as a potential boyfriend, given his bad boy attitude and tattoos. But Brook Lynn honestly doesn't want to try staying away when he makes her feel so beautiful and protected. When she learns secrets from Jase's past, though, will she still feel the same way?
"This is a 911 sexergency. You have made me more frustrated than a zombie at a salad bar. Fix it!"
Behind her, Jessie Kay and Kenna burst out in laughter.
"You been drinking, honey?" he asked.
"Only this much." She pinched the fingers of her free hand to indicate a little.
The Closer You Come is the first full length novel in Gena Showalter's new romance series, The Original Heartbreakers. Full of small-town drama and a storyline worthy of a soap opera, following these characters promises to be a wild ride.
I've become a big fan of Ms. Showalter's trademark offbeat humor, sexy heroes and heroines, and complex plotlines. But I'll admit that when I first started reading this one, I had some doubts. I'm happy to say that I was pleasantly rewarded by following through to the end. No doubt you'll be reading some reviews mentioning the scene where Jase and Brook Lynn first met and how it turned some readers off. I totally understand. However, if you are familiar with Showalter's twisted relationships, then you'll know there's a reason for it. (And there definitely was.)
The quirky humor was my favorite part, which usually revolved around Brook Lynn, her sister and her friends. I mean, she and her best friend Kenna had a plan in place for the zombie apocalypse that, and I quote, 'was only a matter of time before it happened'. You just gotta chuckle. There was definitely some of that lightheartedness between Jase and Brook Lynn, but the intensity of their connection was more prominent. I thought they actually made a perfect combination where she was a very caring, mother hen type and he had a tough exterior but was starving for affection on the inside. I came to like Jase after that rocky beginning and thought he was the quintessential bad boy with his dirty talk, charm, and heart made of gold.
The beginning may have been unconventional, but the romance that followed was solid in The Closer You Come. And check out Jase's best friends Beck and West's turn in the hot seat in upcoming installments.
Book Info:

Published March 31st 2015 by HQN Books | Original Heartbreakers Series, #2
New York Times bestselling author Gena Showalter introduces the Original Heartbreakers, where three not-quite-reformed bad boys are about to meet the women who will bring them to their knees.
Just released from prison, Jase Hollister has a dark and twisted past. And now, he has only one goal: stay out of trouble. Strawberry Valley, Oklahoma, sounds like the perfect place for him and his two brothers-by-circumstance to settle down and live a nice, simple life. But model citizen isn't exactly this rugged bachelor's default setting—especially when it comes to a certain hot-blooded Southern beauty…
Brook Lynn Dillon has always been responsible. Not that it's done her much good. The down-on-her-luck waitress is broke, single and fun-deprived. Until Jase comes along. He is dangerous, stunningly protective, breathtakingly sexy and as tempting as sin, and the passion sizzling between them is undeniable. But can it melt her resistance? After all, the right kind of trouble might be just what they both need.