The Comfort of Favorite Things by Alison Kent is a well-thought out story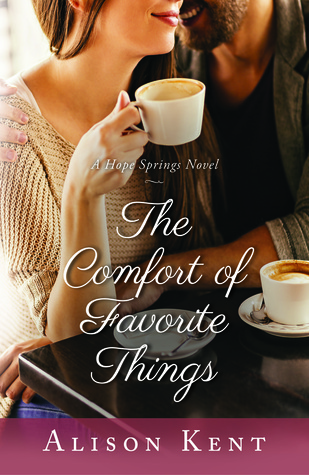 with strong characters and an intriguing storyline. Just by looking at this cover, I thought this story was going to fun and give me a sweet, light-hearted romance. Well…looks can be deceiving. This was not a light-hearted romance as it contains serious subject matter and matters of the heart that shouldn't be taken lightly.
This story revolves around Dakota and Thea, but we also see a lot from the supporting characters as well. Dakota and Thea share a past. A past that occurred when they were younger and didn't know what the future held for them. Both characters are broken and need each other to become whole, they just don't realize it yet. Was the connection they experienced when they were younger a fluke, or is there something more there?
"Time's nothing as long as the chemistry's still there."
Dakota isn't the same boy Thea once knew and vice versa. Dakota is harder, due to the time he spent in prison and Thea is always watching over her shoulder, due to the abuse she suffered from her ex-boyfriend. Because of their pasts, their future together is threatened.
I loved Thea as a heroine. She runs a women's shelter that provides safety and protection from people trying to hurt her or her friends. She is also a business woman, who owns Bread and Bean, which gives the women a fresh start.
Dakota has one foot out the door. All he can think of is how much his past mistakes disappointed everyone. Even though, Dakota is on his way out, he still makes time to lend Thea a helping hand. But, the longer he's near Thea, the reasons he needs to leave become non-existent.
While the story focuses on Thea and Dakota, we also get the back stories of the other women in the shelter. I loved how both characters had pasts they needed to make peace with before getting to their happy ending. The romance is a slow burn and takes a little bit for them to reconnect, but anyone who enjoys a second chance romance will take to this book.
Book Info:

Publication: September 15, 2015 | Montlake Romance | Hope Springs #5
No matter how many years Dakota Keller has spent trying, he can't outrun his past, so when a private investigator tells him his sister needs him, he travels to the small Texas town of Hope Springs to start a new life with the support of his siblings. When he arrives to do a routine construction job at the town's new espresso bar, he's shocked to discover that the owner is Thea Clark—the girl he couldn't resist in high school and whose memory kept him sane in prison.
Recovering from an abusive relationship, Thea decides that her past is off-limits for discussion, even with Dakota. After all, it feels like a lifetime since she last saw him. But when Dakota's brother's firm is tapped to renovate the women's shelter Thea runs out of her home, old feelings quickly reignite. Could a casual affair from high school turn out to be the one connection neither of them can live without?