In The Cowboy and the Angel (Rodeo #2) by T.J. Kline, When Angela McCallister got an anonymous tip about a story that could finally advance her career, she headed off to the local rodeo to investigate animal abuse and cruelty. She soon found out that journalists are not exactly welcomed with open arms by the cowboys. One in particular, Derek Chandler, seems to be attracted to Angie while not trusting a word she says. When she's asked to follow his family business along the rodeo circuit for the next two weeks while staying at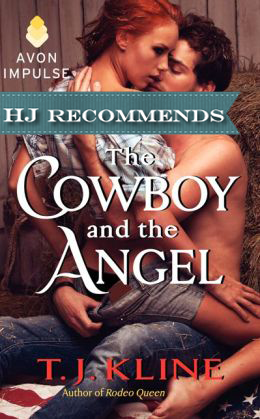 their home in the meantime, she jumps at the chance. This is the best shot she has to get her father get help with his issues. But as her boss questions her work and gives her an ultimatum, can Angie help the cowboy she's falling for, and his family, without hurting her career and her father at the same time?
'She couldn't fight her desire any longer. Derek reminded her that she was a woman, feminine and desirable, worthy of love. In his arms, she was protected and cared for, cherished and adored.'
Derek Chandler has tried to become the man his family is expecting him to be after the horrible decisions he's made in the past. He's on the right path by pitching in with the family business. What Derek doesn't need at the moment is to fall head-over-heels for journalist Angie when she gets right in his face with her attitude. He can't deny they both share the same sense of regret over their past, making them kindred spirits. And their chemistry is obvious to everyone around them. But can Derek trust Angie, his Angel, with not only his heart, but with the most important people in his life: his family?
"…I can't give in to anything that will jeopardize this family, not again. Unfortunately, right now, that includes you."
The Cowboy and the Angel is a sexy, emotional western romance that kept me interested from page one.
There were a lot of layers to this story by T.J. Kline as our hunky hero and sassy heroine dealt with regrets from their past with regard their family. Derek and Angie found out they had a lot of similarities when it came to emotional baggage which I thought was an intriguing connection between them. Derek had stepped into his role as part of the family business over the past year and would do anything to prove to them that he could protect them. Whereas Angie was focused on doing whatever it would take to further her career and help her dad. Their struggles overlapped and it seemed likely that neither of them would end up completely happy. But I love it when a story works out and we readers get that HEA that makes us smile and give a happy sigh.
Now, this can be read as a standalone title or as part of the Rodeo series, but I will warn you there will be spoilers from book one, Rodeo Queen. However, I am still going to read it because I want all the deets on Scott and Syndey's romantic beginnings. They seemed like such a solid, perfect couple in this installment. I thought all of the secondary characters, and there were quite a few to keep track of, were equally engaging and made me want to find out more about their own stories. I almost always enjoy romances in a contemporary western style setting because it seems like cowboys, and cowgirls, are so fun and full of life. And that is very apparent here with Mike, Silvie, Scott, Sydney, and Jen. I loved their camaraderie and how accepting and caring they all were.
If you're a fan of rodeos and the tough-but-tender guys and gals who make the show worth watching, I think you'll really like Angie & Derek's passionate romance.
Book Info:

Published August 5th 2014 by Avon Impulse | (Rodeo #2)
Reporter Angela McCallister needs the scoop of her career in order to save her father from the bad decisions that have depleted their savings. When the opportunity to spend a week at the Findley Brothers ranch arises, she sees a chance to get a behind-the-scenes scoop on rodeo. That certainly doesn't include kissing the devastatingly handsome and charming cowboy Derek Chandler, who insists on calling her "Angel."
Derek has a rodeo to run and a chip on his shoulder. He has no time for the fiery woman who is clearly hiding something. But for some reason he can't keep his hands off of her. Their connection is instant and explosive, but Angela's secrets could threaten his family, and Derek needs to prove that he's not the irresponsible kid brother anymore.
When the rodeo dust has settled, will the Cowboy and his Angel allow themselves to give in to the attraction that threatens to consume them both?