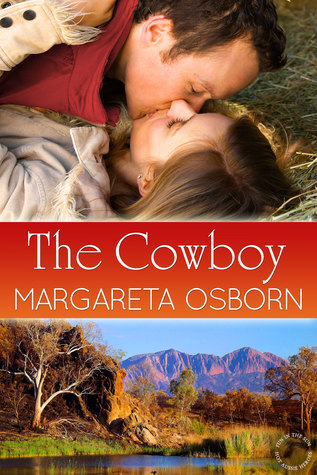 The Cowboy by Margareta Osborn: Carina, Ree, Chapman had flown halfway around the country for her first real vacation in years and it was NOT supposed to be going like this! She was going to murder her assistant when she returned to New York. However when she found the resort she was actually booked in and saw Jake Richardson, the owner, she wondered if she was going to need to reconsider. He was after all sex on a stick all wrapped up in Aussie real man clothing. Jake was used to women leaving him, of not being enough or at least enough at the right time for them. He was determined to give Ree all she needed though, even if it wasn't him.
As Ree searches for herself and for happiness she can't help but wonder what it might take for Jake to be happy. Jake on the other hand just wants to make his heritage work, make this resort thing into the savoir and he is just going to need to remind his hormones of that EVERY time he sees Ree. Can these two survive a week together? Or will be Ree heading back to town and Jake realize failure?
Ms. Osborn takes her readers to the outback in this novella about two people who spend so much time trying to get what they think they want that they neglect to see what is right in front of their faces. It's a well written, flowy story that is about two people with great chemistry who fight it until they can't any more. For anyone who is interested in a small amount of heat, a great cowboy and a city girl who finds herself transforming you should pick up this story and be ready to fall into the outback.
Book Info:

 by Tule Publishing
Carina Chapman wants a vacation. Somewhere hot. Somewhere decadent. Somewhere far, far away from her complicated life in New York. Somewhere in Australia appears to be the answer, until Carina discovers her PA has booked her into the wrong resort.
Cowboy Jake Richardson can cook a mean camp-oven roast, track wild horses, breed cattle and knows Australia's rugged High Country like no other, but he needs to diversify if he wants to keep his land. Tourism seems like the answer, but his housekeeper just quit, the rooms aren't ready and he doesn't know a short black from a cappuccino.
Then his first guest arrives.
City slick Carina is smart, classy and disgruntled that her dreamy five-star retreat has been replaced by a rustic homestead beside the Barcoo Creek. Jake has seven days to convince Carina he can deliver all the items on her vacation checklist – including the five-step method to an everlasting relationship…
With him.