In The Cowboy Meets His Match by Roxann Delaney, Erin Walker is back home broke and in need of money to return to the rodeo circuit. She needs to train her new horse, but she also needs money to get away as soon as possible. So when Jake Canfield offers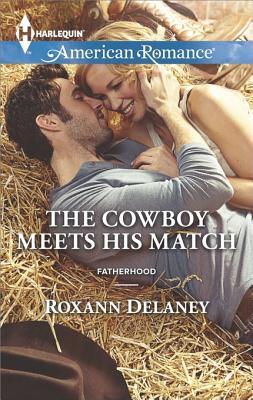 her a job she wants to refuse, but she needs the job.
Jake left Desperation seventeen years before swearing that he would not return and broke Erin's heart in the process. But he had his reasons back then about why he did things the way he did even if they weren't the best way. Now that Erin is back in town he want to get close to her again, and the best way to do that is to have her working on his ranch with him.
But there is something that Jake doesn't know, Erin had a secret she was unable to tell him before he left and one that she gave away. Now she wonders what happened to the product of their love, if he is happy with his adoptive parents and if he is happy or if maybe he would have been happy with her and Jake if they had been a family.
When Jonah, a teenager, shows up at the ranch and asks Jake for a job, Jake sees his young self in him and gives him one. He is very inexperienced, but he is determined to learn everything about ranching. So it's no wonder that Erin takes him under her wing and takes over his training. But what she doesn't expect is to learn who Jonah really is, or the consequences that knowledge will bring.
The chemistry between Jake and Erin is still there after so many years, and so is their love. But before they can move on to find a future together, they will need to reveal all the secrets from the past and put them to rest. Until then Erin's stubbornness and Jake's hardheadedness will get in the way of the happiness and future they were denied so many years ago.
One character that I really liked was Jonah, for being the younger one of the trio, he was the most mature in his way of thinking and rationalizing things. He gave a fresh point of view to both Erin and Jake, not to mention he was the one with the clearer view of Erin's and Jake's relationship and feeling for one another.
If you want a sweet and fun read, don't miss The Cowboy Meets His Match by Roxann Delaney.
Book Info:

Published August 5th 2014 by Harlequin American Romance Series #1512
Broke and in need of a job, barrel racer Erin Walker has returned home after years of traveling the rodeo circuit. But the only job available is working for the man who broke her heart and left her pregnant and alone. Not a day goes by that she doesn't wonder about the son she and Jake had, whether he's happy with his adoptive parents or what her life would have been like if the three of them had become a family.
Jake Canfield just wants to get close to Erin again and perhaps rekindle what they once had. But is that possible? It depends on the sudden appearance of the one person who could bring them closer together!