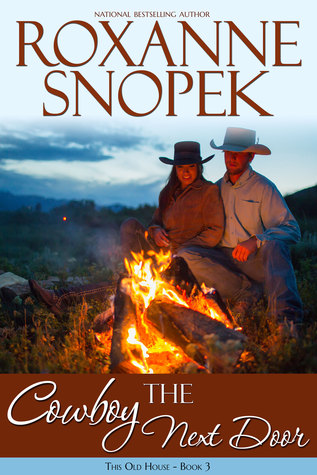 The Cowboy Next Door (This Old House #3) by Roxanne Snopek: Two strong personalities are thrown together by two determined dogs in this Marietta romance.
Leda Plett had been the good girl, until she met him. Now she was a 21 year old single mother living in a spare room in her friend's house. When one day she realizes the dog is not where he is supposed to be so she wanders next door and he is there. Eric Anders, turns out her neighbor's brother is home for the duration and the dogs have crushes on each other, but what happens when the those crushes move to the humans in their lives? Will there be a convenient family in the making complete with dog? Or will two strong personalities win out over love?
Back to Marietta in this This Old House series book 3 we go. Ms. Snopek has taken us back to a simpler time where Leda is struggling with breaking out of the stereotype she has been cast in. This is a quick paced novella that is a good read for anyone looking for a quick fairly tame romance. The characters are well developed in their current relationship and given more time would have been equally developed in their pasts I believe. Pick up this novella for a fast shot of cupid.

Book Info:

 January 27th 2015 by Tule Publishing (first published January 25th 2015)
Love's worth more than being right
When single mother Leda Plett – who's doing just fine on her own, thank you very much – goes next door to retrieve her wandering pooch, she doesn't expect to find the neighbor's handsome brother lounging about like he owns the place. She certainly doesn't expect him to go after the deadbeat who abandoned her. She's not looking for a know-it-all white knight with long, lean muscles and a sexy smile. He's hot, but she's already been burned.
Rodeo-star turned agent Eric Anders is used to managing people, especially irresponsible males, and he can't stand it that some jerk has left Leda high and dry. Clearly, the boots-and-sundress wearing mouthy mama needs someone on her side. He could change her life, if only she would let him! And it has nothing to do with the fact that her sparkly exterior hides a spirit that is as sweet as it is strong – and irresistible.
In fact, Leda is more mature than her years. She feels the weight of her mistakes, and wants only to make sure her daughter doesn't suffer for them. Eric's hot gaze makes her weak in the knees but Leda's track record with men is as bad as it is short. Can she trust the cowboy next door?
When Eric's well-intentioned actions inadvertently reveal a shameful secret from Leda's past, he realizes she never needed him at all. As he watches her rise above the humiliation, he knows he must find a way to make it up to her, or risk losing the one girl he now can't live without.