In The Cowboy Rides Away (Marvells of Montana #4) by Jeannie Watt, being the middle child Meg has always felt the need to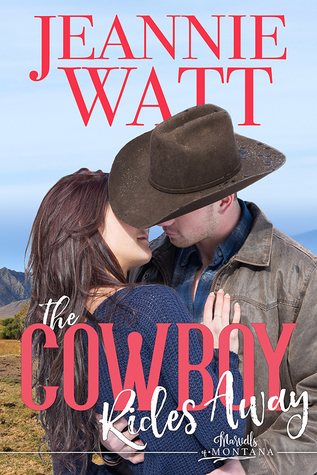 play the peacemaker, but this time she's determined to get answers for why her ex left. Asking her cousin for a job and working alongside her ex is easy enough, but getting Jason Mann to talk to her is anything but, especially when it comes to what she really wants to know. Will Meg and Jason get a second chance at happy ever after, or will Jason's past become too much trouble for him to let Meg stay a part of his life again?
She lifted her chin. "You're saying you didn't care for me?"
"I'm saying that the circumstances were temporary."
She frowned at him. "Like a summer romance?"
"It's all it could be."
"Because you don't do relationships."
Every time I've read a book by Ms. Watt, I've found her writing to be fascinating and captivating, and this story was no different. Right from the beginning, this story drew me in and had me hooked because the heroine is determined to find her way in life after what happened to her when it comes to her career. Will she do what her sisters suggest? Will she be able to make it on her own and find another job in her field? However, it was from the moment the hero and heroine came face-to-face for the first time in this story that had me liking the heroine, as she's determined to get answers from the hero once and for all, as to the reason why he believes their break-up was for the best. Is he right? Will he ever be able to admit the truth about why he left the heroine?
As for the dialogue, it was entertaining due to the main characters back stories, especially that of the hero, as his family aren't the nicest of people and will do anything to remind him that they're family. Furthermore, the heroine was resilient and I liked how determined she was when it came to confronting her ex and wanting to know why he's denying their chance at happy ever after. I also liked that Meg didn't give up like Jason expected her to, considering she used to be all about avoiding conflict. Certainly, she's changed since the last time he saw her and it was hard not to like how brave she's become by going after what she wanted. While the hero, I really enjoyed his back story and I could understand why he would do anything to protect the heroine from his past. I also liked how determined he was to resist the heroine, and yet, it was impossible because she's still the woman he wants. Will he explain why he ended things between them, so they can have a second chance at love?
"Is it your family?"
"Probably." He turned his hat in his hand. "I don't know."
"Is it me?"
Not a question he wanted to answer. It was her, but it wasn't. She shifted her weight and folded her arms. "Do not give me the 'it's not you, it's me' line?"
He met her eyes then. "Not even if it's true?"
Overall, Ms. Watt has penned a delightful read in this book where the secondary characters entertained me just as much as the main ones, especially Brandon because of the way the heroine helps him; the chemistry and romance was wonderful and shows how good these two are together; and the ending had me liking how the hero makes things right between him and Meg, because Jason realizes that he deserves to be happy with the help of the heroine. I would recommend The Cowboy Rides Away by Jeannie Watt, if you enjoy second chance romances or books by authors Sarah Mayberry, Kat Latham, Jane Porter and Ann B. Harrison.

Book Info:

Publication: September 5th, 2017 | Tule Publishing | Marvells of Montana #3
Never draw a line in the sand that you don't want crossed…
The last person Jason Mann ever expects to cross a line is sweet Meg Marvell, the woman he'd fallen for–and left–two years ago. An accidental meeting has Meg asking for answers, which he'll give if she travels hundreds of miles to her cousin's ranch where he works. Maybe making her go out of her way will help Meg understand that he's not a good guy. His rough past makes it impossible to fit into her world.
Middle-child Meg Marvell has spent her life brokering peace and bending to avoid conflict. She lives cautiously, rarely takes risks, steps back when confronted. And she is damned tired of it. It's time to tackle life on her own terms. Break free. And what better way than to answer Jason Mann's challenge? He doesn't believe she'll travel to her cousin's ranch to discuss why he disappeared from her life, so she does him one better and hires on. She didn't want him back—she wants to prove that she can rise to a challenge. Unfortunately, the attraction they once shared has not withered and died as she'd once thought…if anything it's stronger than ever.