In The Cowgirl's Christmas Wish by Barbara Ankrum, Eve Canaday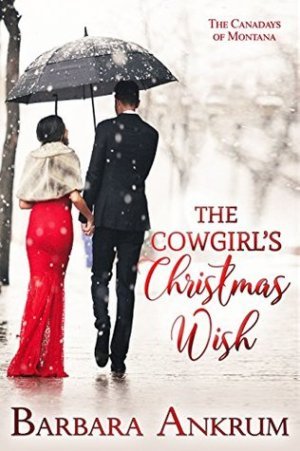 is driving her friend, Dr. Ben Tyler to the airport when they're sidelined by reindeer. Missing his flight, Ben and Eve end up back at the hospital to learn his friend, Malcom, has been injured and needs someone to care for his little girl until he's back on his feet. They discover the girl's deceased mother had left a trail of Christmas things for Malcom and Lily to do so they both can have a magical Christmas even though she's no longer alive. With Malcom out of commission, it's up to Ben and Eve to help Lily have the memorable Christmas Patsy so wanted for her daughter.
There were things I really enjoyed with this book, and there were things I didn't. I absolutely loved the idea of Patsy creating a trail of clues to help Lily enjoy the holiday season after her death. Some of the events including going on a hayride, visiting Santa, and going Christmas caroling. Ben and Eve were wonderful with Lily, and Ben, claiming he didn't like the holiday, even finds himself having a good time.
I enjoyed the reindeer who always seemed to appear out of nowhere, as if his purpose was to help Eve and Ben get together. First he causes the accident, but he also appears a few other times, including when Ben has doubts he can be the type of man Eve needs.
==From the corner of his eyes, in the fog-draped morning light, he caught a movement in the field to the east near the distant hedge of fir trees. Turning to look fully, he blinked in disbelief. Damned if it wasn't that same reindeer again, with the green and red halter standing in Malcom's field, staring right back at him.==
My main issues were Eve, Ben, and their relationship. Whenever something would happen, Eve would assume it was because of her. Ben wasn't interested enough in her, Ben didn't want to go to the ball with her (even though she didn't ask him). It was almost as if the whole world revolved around Eve and that she just expected Ben to know what she was feeling without giving him any clues. Then there's Ben. Ben and Eve were supposedly friends, but instead of telling her where he was really going, he made up an excuse that he was going on a diving trip. He doesn't reveal the truth until he absolutely has to. If they were truly friends, he should have been able to just admit that he was going to Honduras for a potential job. He has a hatred for Christmas that Eve doesn't understand because she doesn't know about his childhood. Once again, if they were friends, this seems likes something he would have told her about during the course of their friendship.
The Cowgirl's Christmas Wish falls flat in the romance department, but it's still a sweet and touching story of two people coming together to help make Christmas magical for a little girl going through her first Christmas without her mother.
Book Info:

Publication: October 24, 2016 | Tule Publishing Group | The Canadays of Montana #3
Event planner Eve Canaday and her secret crush, Dr. Ben Tyler, are unexpectedly drafted to help a little girl fulfill her late mother's wish—a magical Christmas to create some happy memories. Eve sees this opportunity as a sign; Ben, as a glitch in his plan to leave Marietta behind for good.
As the trio checks off the to-do list of Christmas fun, Ben's 'bah-humbug' opinion of the holiday fades, along with ideas about keeping his distance from Eve. Getting involved is the last thing he wants to do but, alas, there's no accounting for cosmic interference.
With the season of miracles upon this jewel of a town, will Eve find it's possible that Christmas wishes aren't only for little girls?