In The Darkest Joy by Marata Eros, Brooke Starr's life is shattered when her family is suddenly and brutally taken away from her. Left to pick up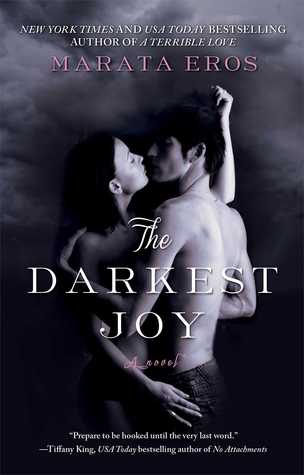 the pieces, she turns her back on what used to give her joy: her music. Going to Juilliard and becoming a classically trained pianist has been her focus for so long that she doesn't know what else to do. She hoped a trip to her family's home in Alaska would be the escape she yearns for, but the grief that threatens to overtake her doesn't dissipate. Then when gorgeous Chance appears in her life, Brooke just might have found something worth living for.
'I'm not at peace. Yet…I want joy. Even if it is dark, I yearn for it. The darkest joy is better than none at all.'
Chance Taylor shows up at Brooke's weakest moment and helps her begin the long process of digging out from under her loss. The charter boat fisherman has lived his life avoiding attachments. However, Brooke gets under his skin and has him thinking crazy thoughts of love and forever. When her life is once again threatened, Chance will do whatever it takes to keep his fragile musician safe and in his arms.
'Brooke's music fills the space as if she's the melody and I am the harmony. It's not a casual random connection, I realize. Her music moves me, resonating in that hidden place deep inside me that no one touches, no one sees.'
The Darkest Joy gives us an inkling of the overall tone of the book, dark, with its title. But it also has one of the sweetest and most inspiring love stories I've read in a while.
I think author Marata Eros did a fantastic job here. She took a character who had been through a devastating experience, who was ready to end it all, and then introduced her to the person who would bring her back from the depths of hell. Brooke and Chance's journey was fraught with tragedy, grief, misunderstandings…but most of all, a love that was strong enough to withstand everything thrown their way. Some of the subject matter, and Brooke's emotions, were quite intense. This isn't a warm & fuzzy story, start to finish. Although there were definitely happy moments woven in that were a blast to read.
The storyline, I thought, was nicely done. It was involved and had a good mix of intrigue, along with life in a fishing community thrown in, plus the romance, of course. I loved experiencing Brooke's feelings of finally belonging as she grew to love Homer, Alaska, and the lovely people there. And Chance was a wonderfully straight-up honest guy who proved just loyal and genuine he was. He became the champion of their relationship, wanting to prove his love for her, which was great to watch. I really felt like Chance and Brooke would be good for each other from the start, no matter what others may have said to them. But those secondary characters proved to be an integral part of the plot, especially wise old Jake. Loved him!
Don't let the heavy undertone of Brooke and Chance's story scare you away. I think you'll be pleasantly surprised with the depth of love these intriguing characters share.
Book Info:

Published February 18th 2014 by Gallery Books
"I don't want my broken fixed. . . ."
Six months ago, Brooke Starr was one impeccable piano performance away from Juilliard. Now, she is lonely, devastated, orphaned . . . seeking solace in a place where the sun never sets and trying to make sense of the dark tragedy that clouds her shattered heart.
There are no coincidences. . . .
Deep-sea fisherman Chance Taylor can't imagine what his life would be if he'd never taken that midnight stroll to the pier. Had never seen the intriguing, raven-haired girl swan dive into the Alaskan sea. Had never plunged into the icy waters to rescue her . . . and finally felt her electric charge.
As their blazing chemistry consumes them, Chance is determined to save Brooke from her demons. But Brooke knows she must find her own footing. She thinks she's already lost everything—until the terror of her past catches up with her and threatens all that she has left: her life, her love, and the freedom to choose between drowning in grief and finding joy in the darkness.