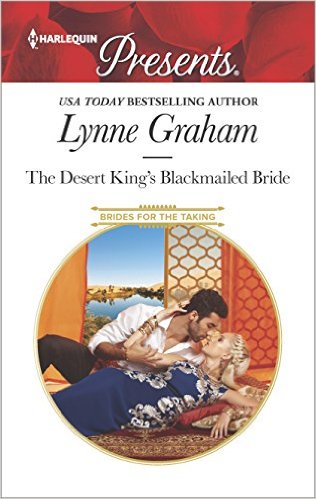 In The Desert King's Blackmailed Bride (Brides for the Taking #1) by Lynne Graham, Polly Dixon's holiday to Dharia doesn't turn out how she expected. When she arrives, she's taken into custody and then soon after finds herself in the company of the country's ruler, King Rashad. He's determined to learn how a royal heirloom came into her possession and he isn't afraid to blackmail her to learn the truth. Will Polly marry the King to be able to stay in the country and discover more about her family, or will she be forced to leave before she learns anything?
"But I don't understand. What do they want from me?" she queried numbly.
"In a nutshell, they want you to marry their King," Rashad replied very drily. "A single monarch, a single woman with the name of a famous queen…in their eyes it's a simple question."
"They want me to marry you?" Polly cried incredulously.
"And everything about you plays into their fantasy conclusion," Rashad imparted with an edge of bitterness because the more he watched those crowds waving flags in the streets, the more his sense of duty warred with his brain.
Every book I've read by this author has been a story worth reading, and this first book starting off Ms. Graham's Brides for the Taking series was a delightful read from start to finish. Because it encompasses the marriage of convenience and blackmail tropes, a perfect blend of intense and playful dialogue, and an entertaining plot where two fantastic characters have some tough obstacles to overcome to achieve their happy ever after. Such as Polly and Rashad's jealousy, the pressures they both feel of doing what's right for the hero's country and the struggles Polly faces when it comes to getting intimate with Rashad. What if she's not good enough because of how inexperienced she is?
Both the main characters had me hooked due to their back stories and the growing relationship between them. Rashad has never felt any warmness from his family before the tragedy that took them from his life while Polly's grandma was all about rules and making sure her grand-daughters lives didn't turn out like their mother; a woman who it seemed took better care of other people's children than she could her own. How can a relationship possibly work between them when they don't know the first thing about love? Can things between Rashad and Polly work out better than his first marriage?
Certainly, there's a lot to consider and it isn't easy for either of them, especially when Rashad doesn't like to talk about his first marriage because it ended in tragedy as well. Yet, I liked that Polly was strong and brave in her persistence to get Rashad to open up. Because he definitely needed to, if he was ever going to be able to get over his past, so they could have a future filled with the love and happiness they both deserve after all that they've been through in their lives. While Rashad, he's never had someone challenge him the way Polly does. Her openness and honesty are traits I admired in her, because she's the complete opposite to his first wife and that's the kind of woman he needs, if he's to rule his country to the best of his ability. He comes off a little frosty at times when Polly challenges him, but it's in an endearing way because he's trying to protect himself from being hurt again by a woman he loves.
"I think a kiss is in order…and I'm expecting a real award winner of a kiss," she warned him cheekily.
"I will try to deliver," Rashad groaned, gazing down at her clear blue eyes with fervent appreciation. "I always try to deliver—"
"Well, you were pretty nifty in the baby stakes," she conceded.
"Nifty together…"
Overall, Ms. Graham has penned an incredible read where the strong chemistry these two have spilled over onto the pages in hot sex scenes where Rashad makes the heroine feel beautiful and cherished. Moreover, this first story of this series has me eagerly awaiting the second book, The Italian One-Night Baby, featuring Polly's sister and Rashad's best friend. The epilogue wrapped this story up perfectly, and I liked how Polly and her sister teased Rashad because of how much he loves his wife and son. I would recommend The Desert King's Blackmailed Bride by Lynne Graham, if you've read any books by this author before or if you enjoy the marriage of convenience trope, blackmail or surprise pregnancy tropes.
Book Info:

 January 17th, 2017 | HQN | Brides for the Taking #1
With this ring…
When naive Polly Dixon lands in the desert kingdom of Dharia clutching an ornate ring—the only link to her hidden past—she never expected to be arrested and deposited at the feet of the country's formidable ruler!
I thee blackmail!
King Rashad is suspicious of desirable Polly, but her possession of the ring has caught the imagination of his country. They believe that Polly is the bride he's been waiting for, so Rashad begins a fiery sensual onslaught to melt away Polly's resolve and have her begging to walk down the aisle!