In The Desert King's Captive Bride by Annie West, Princess Ghizlan is returning home to be with her sister after the loss of their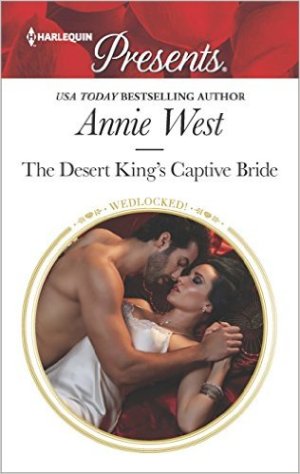 father. However, when she arrives to find her sister being held captive and herself given an ultimatum to ensure her sister's safety, will she marry Sheikh Huseyn al Rasheed? Figuring she has no choice, she goes through with the marriage. Can she and Huseyn ever truly be happy when he blackmailed her, or will the conditions she listed in order to agree to them being married be made use of?
"I prefer not to be manhandled."
"Manhandled?" A jet eyebrow rose and the lips buried in all that undergrowth of beard curved up. She amused him. The realization infuriated her,.
"I'm not a plaything, Huseyn. You'll find most women prefer not to be touched against their will."
"Most women enjoy my touch." His voice was a low murmur of masculine confidence. His eyes gleamed silver. He thought himself irresistible.
What a wonderful read Ms. West has penned in this book, encompassing the marriage of convenience and blackmail tropes, a feisty heroine that provides quite a challenge for the hero; and a hero that will go to great lengths to achieve her compliance in regards to getting married. Because he needs her to make sure his country doesn't suffer what's to come now with her father dead. The way this story started had me liking Ghizlan immediately, because she isn't about to let some warrior intimidate her.
As for the main characters, both were fantastic, and I loved every moment they conversed, as the dialogue is what made this story a really good read. Ghizlan is strong, brave, and I liked how feisty she is. The way she stood up to Huseyn and isn't about to let him rob her of her independence was endearing and had me hooked, because the moments where she gets under his skin makes for some seriously strong chemistry that spilled over onto the pages in hot and nicely-detailed sex scenes that showed the powerful chemistry these two had really well.
"You expect me to treat you like a welcome guest?"
"Frankly, my manners are the least of your worries, my lady. You should be more concerned about the threat to Jeirut from Harlarq."
"Ah, but according to you, I'm merely a waste of space." She tilted her head as if thinking. As if she didn't recall precisely what he'd called her. "A pampered princess, wasn't it? It's obvious that as far as you're concerned such weighty issues can only be dealt with by armed men. The sort of men who flout the law and imprison law-abiding citizens."
While Huseyn, he's done well for himself considering how he grew up with a father that couldn't care less for him. He's also courageous, loyal and would do anything to keep his country safe, which is proven by blackmailing the heroine into marriage. But what I liked most about the hero is how he was surprised to learn the heroine isn't the pampered princess he assumed her to be. She's smart and done a lot of good for her country.
Overall, Ms. West has penned a worthwhile read in this book where this couple's dialogue and chemistry made this story an absolute page turner, as it seemed the heroine was always pushing the hero to see how much he could take before he called her on her impertinence. The way this story ended had me cheering for this couple's happy ever after and the words Huseyn told the heroine to prove his love brought tears to my eyes. Who knew a warrior as strong, brave and intimidating as Huseyn could be so romantic? I would recommend The Desert King's Captive Bride by Annie West, if you enjoy the blackmail trope, the marriage of convenience trope, or books by authors Jennifer Hayward, Melanie Milburne or Carol Marinelli.
Book Info:

Publication: March 21st, 2017 | Harlequin Presents | Wedlocked #85
I was blackmailed into this marriage. I will not be blackmailed into bed.'
Princess Ghizlan of Jeirut has returned home to find that warrior Sheikh Huseyn al Rasheed has seized her late father's kingdom. With her sister held hostage, Ghizlan has no choice. Her barbarian captor is determined to tame her, rule her — and make her his own!
Forcing Ghizlan's hand in marriage will not be enough to conquer her body and soul: Huseyn's iron will is challenged at every step by her magnificent beauty and fierce pride. It won't be long before they both fall prey to the firestorm between them…