The Desert King's Secret Heir by Annie West: Annie West sweeps us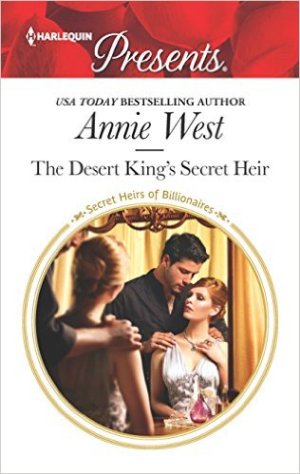 into another desert kingdom and the sultry romance between Sheikh Idris Baddour and the woman who captured his heart but whom fate decreed he couldn't have. When a chance meeting at a party at the Zahrat embassy in London brings him face to face with her again, he cannot stop himself from seeking her out the next day – and discovering that he has a son.
Four years earlier, Arden Wills had a brief holiday affair with a handsome foreigner, the week they spent together ending too soon. When he never showed up at their rendez-vous point, her heart broke but she was left with a reminder of him when she discovered she was pregnant. Making every effort to find him, she soon realized that he'd given her a false name and didn't believe she'd see him again. Alone without any family, she's been the single mother to her son, working long hours and scraping by. Her landlord, a Zahrat emigre (who happens to be Idris's cousin) invites her to the party at the embassy and she can't resist going, not expecting to see her one time lover, but wanting to remember a bit of him and his culture. Her shock over discovering that the man she knew as Shakil is really the ruler of this Arab nation is compounded by discovering that he's practically engaged to a royal from a neighbouring country, an alliance needed for both countries. But when Idris's daytime visit to her is captured by the paparazzi, the fallout could be disastrous unless Arden agrees to marry him and move her and their son back to Zahrat. It's the only way he can protect her from the press, and deal with the scandal of the broken alliance. It's also apparent that he wants the chance to be a father to his son. Arden agrees, and is soon ensconced in her role as Sheikha. She's determined to guard her heart from Idris, having been made a fool of once, and knowing that it's only because of their son that Idris has married her. But as they grow closer, will they be willing to admit that there is more than their desire to make a family for their son that draws them together?
I really enjoyed this story! From the start Idris comes across as a dedicated ruler, a confident and steadfast man whose duty to his country is first and foremost in his heart. When he first met Arden he'd been delighted to find that she had no idea who he was, a far cry from the women after him only for his wealth and position. The nights they spent together were ones he treasured, until he got the call of his uncle's death and had to return suddenly to Zahrat to assume the throne. While he'd sent a messenger to their rendez-vous point, she hadn't shown up and so he'd gone on with his life leaving her a memory, but one he'd never forgotten. Seeing her again brings up the old passions and the loss of control over his emotions is something he has difficulty accepting. But when Arden agrees to marry him and move with him to Zahrat, it's a chance for him to introduce her to those passions again, resulting in some steamy scenes between them even as he hopes it can become something more.
In truth, Arden had shown up at the rendez-vous with Idris late only to discover no one there, and believed he'd abandoned her. Later, when she'd found out she was pregnant, her own fragile family circumstances had instilled in her a desire to have her son know a little about his father even if he never got to meet him. As such, she'd researched Zahrat customs, named her son Dawud, and learned a bit of Arabic so that she'd be able to share some of these things with her son when he was older. These decisions mean a lot to Idris, and he admires her strength and fortitude in raising their son. He's determined to do his part now that he has the chance and there are some sweet scenes between him and Dawud that clearly show his love for his son. Arden worries though about what will happen when he tires of her and pushes her aside for a new lover. Idris must convince her that he wants their marriage to be real in every sense.
The setting is well described, from the opulent palace to the gowns and jewelry that Arden wears to royal events, to the customs and culture of Zahrat. It's a country that is working to become more in line with modern ways of thinking for education and women's rights and Arden quickly becomes beloved by the citizens for her efforts to engage with them. I enjoyed all these details and they are an added bonus to the sexy romance as Idris and Arden take the embers of their initial affair and let them flare into a loving and committed partnership.

Book Info:

Publication: Nov 22, 2016 | Harlequin Presents | Secret Heirs of Billionaires #5
The child she hid…
Surrounded by society's glitterati, Arden Wills finds herself staring up into the eyes of her first and only love. But Sheikh Idris Baddour has a surprise title and heavy responsibilities…so she clings to her precious secret even tighter.
Time has done nothing to dampen the intense ardor between them. And when their kiss is blasted across the world's front pages, Arden's truth comes to light—the sheikh has a secret son! To avoid further scandal, Idris must legitimize his heir and make English rose Arden his dutiful desert queen!