In The Devil Takes a Bride (The Cabot Sisters #2) by Julia London, The time has finally come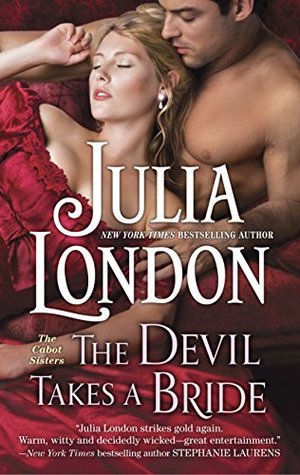 for Grace Cabot to pick a suitor and follow through getting married. A family secret is threatening to take away the chances her two younger sisters have at coming out in Society in the upcoming years, and it is up to Grace to find a way to ensure their future. Her plan to turn a lovely friendship into a marriage proposal by being found in a lover's embrace doesn't quite go as she had hoped. Now Grace finds herself being forced to marry Lord Merryton, a man whom has a sour disposition and exacting standards. How in the devil will she ever hope to endure life with such a man?
"I find idle chatter tedious and I am not very good at it."

"Why, yes, you have demonstrated that very well, my lord. But I don't think of it as idle chatter. I was attempting to know you."

That declaration made him feel uncomfortably exposed. He wondered what she would think if she knew she'd trapped herself into marriage with a madman. "Frankly, I don't care to be known," he said truthfully.
Temptation. Grace Cabot proved to be too much temptation for Jeffrey Donovan, the Earl of Merryton, to resist. That one stolen moment with her in his arms was enough to change his carefully kept life forever. Having been raised by a father with a strong hand, Jeffrey still keeps his world as tightly under control as he can to avoid scandal. But with his own personal issues to attend to, he doesn't have the time or care to spend with his new bride, Grace. She brings nothing but turmoil to his days until Jeffrey realizes her compassion for his peculiar ways. And when he begins to show Grace the wonders of the marriage bed, his life and heart opens up and finds a freedom he never hoped could exist.
"Your love, your acceptance, has changed me. When I look at you, the fears I carry inside me begin to subside. I can see the possibilities–I can't grasp them all, not yet, but I can see them–and I need you, Grace. I need you desperately."

He had stunned her. Grace could only stare at him as those words wrapped around her heart.
What do you get when you pair a virginal debutant with an earl that has rather lustful proclivities in the bedroom? The Devil Takes a Bride. And what a wildly charming adventure our hero and heroine embark upon in this novel!

Forced marriage romances, especially in the historical romance genre, can be hit or miss for me. This story, however, had just about everything I look for in a well written book. Author Julia London did a fantastic job of putting a rather kinky spin on a Regency romance while still being historically accurate outside of the bedroom. I liked that there was a fairly natural progression for Grace and Jeffrey getting to know each other after they were thrown into their marriage. I thought with her ability to charm and help people, it seemed believable that she would try to draw him out of his shell. And the chaos that occurred with Grace in Jeffrey's ordered world was what I also would have expected. It was fun to watch, but I could understand the frustration on both their parts.

Now I won't get into the details of Jeffrey's "madness" so I don't spoil the story, but I will say that I thought it was an intriguing part of his character. I enjoyed watching him realize the reasons behind his issues and with how Grace was able to help him so much by being supportive and not repulsed by it. Honestly, I almost felt like that thread of the plot was in line with some of the contemporary erotic books out there (*ahem* Fifty Shades) where the hero had something dark in his past and dealt with it through control of, well, everything. But this was in no way a copycat storyline. It was unique and wonderfully engaging. I also thought that Jeffrey and Grace's families being part of the plot kept things constantly moving and I found that even though I haven't read the first book in this series, it didn't detract from my enjoyment whatsoever.

If you're looking for a scandalous good time, I think The Devil Takes a Bride is a great way to go. Grace and Jeffrey will definitely keep readers on their toes as they fight for control of their lascivious relationship.
Book Info:

Published January 27th 2015 by HQN Books | (The Cabot Sisters #2)
From powerful love to sizzling passion, Julia London always delivers an incomparable reading experience. Returning to her acclaimed Cabot Sisters series, we meet an earl who can only be tamed by one wicked lady…
A plan born of desperation…
Once the toast of society, Grace Cabot and her sisters now await the shame of losing high status and fine luxuries upon the death of the Earl of Beckington. The dire circumstances are inevitable unless, of course, Grace's wicked plot to seduce a wealthy viscount into marriage goes off without a single hitch. But once a stolen embrace with the wrong man leads her to be discovered in the arms of Geoffrey, the Earl of Merryton, her plan takes a most unexpected—and scorching—twist.
…and altered by passion.
Governed by routine and ruled by duty, Geoffrey had no desire for a wife before he succumbed to Grace's temptation. Though his golden-haired, in-name-only bride is the definition of disorder, he can't resist wanting her in every way. But once her secrets meet his, society might consider their lives to be ruined beyond repair…while Geoffrey might just see it as a new beginning.