The Devil's Thief by Samantha Kane is an highly amusing, delightfully fanciful, erotically charged, regency romp, that will leave you breathless and longing to read the second installment in the Saint's Devil's series.
Following in her father's footsteps, Julianna Harte, desperate for money for her foundling house, sneaks in to her neighbor's house at night to steal a rare pearl. She is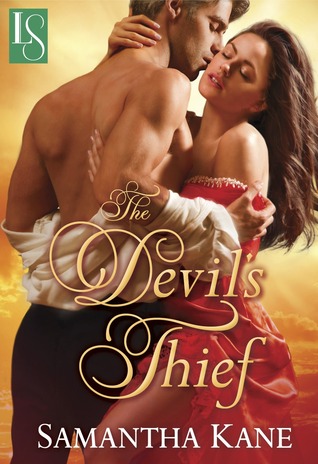 met by an angry, naked man holding a gun on her. She is not prepared to be confronted by Alasdair Sharpe, nor is she prepared for the instant attraction that she feels towards him.
Alasdair while angry finds it amusing that this unknown woman has snuck in to his bedroom. He also finds that he is quite taken with the lady. He agrees that in exchange for a night of passion that he will give the lady his rare pearl.
After sharing an unforgettable encounter with Alasdair, Julianna does not trust him to relinquish the pearl to her, so she sneaks out with it while he is sleeping. When Alasdair awakes to find Julianna and the pearl missing he is furious and enlists the help of his close friends to help him to find out her identity so he can get his precious pearl back. In the meantime Julianna has sold the pearl to raise the money needed to pay the rent for her foundling house.
When Alasdair uncovers Julianna's identity he finds that he is smitten with her and she with him. They decide to work together to retrieve the pearl from the man that Julianna sold it to.
The Devil's Thief is an well written, deliciously amorous, historical romance with likable characters and a great storyline that will keep you reading until the satisfying end. You will find yourself rooting for Alasdair and Julianna.
The Devil's Thief is the first book in the Saint's Devil's series written by the very talented Samantha Kane. The second book Temping The Devil will be out July 8 2013. I will eagerly await this next book and I highly recommend the first book in the series!
Rating: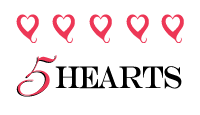 Publisher: Loveswept (November 12, 2012)
Book Cover: The daughter of a reformed jewel thief, Julianna Harte knows a thing or two about stealth. When the foundling home she provides for finds itself in dire financial straits, Julianna is forced to do the unthinkable. In a bit of misguided Robin Hood derring-do, she slips through the window of a wealthy rake to search for a treasure she knows is there: an invaluable pearl. But when the towering and very naked occupant of the moonlit bedroom ambushes her with a bargain—a night in his bed in exchange for the pearl—Julianna doesn't know if it's masculine heat or sheer desperation that makes his terms so tempting.
Alasdair Sharpe had no intention of keeping his end of the bargain. Planning to offer his little cat burglar carte blanche instead, he promptly loses himself in the delights of unexpected pleasure. But when he awakes the next morning to find his family heirloom gone, fury quickly replaces sensual languor. Of course, Alasdair is more than willing to use seduction to reclaim his stolen pearl—and find the key to Julianna's heart.