In The Dirt on Ninth Grave (Charley Davidson #9) by Darynda Jones,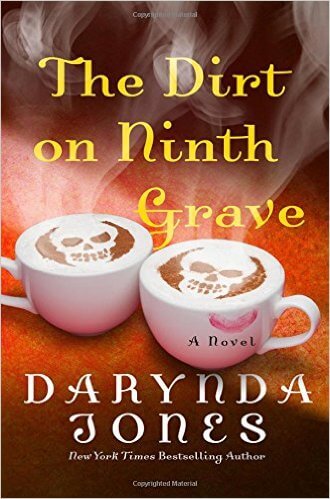 Amnesia has a way of giving a girl a complex. Especially when she has to be known as Jane Doe for the lack of any information as to who she was before. But Jane at least woke up in a nice smallish town, Sleepy Hollow, New York. And she's made some amazing, albeit rather odd, friends while finding a job at the local diner as a waitress. Now if she can just catch hold of the memories and thoughts she can almost remember, she'd be doing great.
'Shaking uncontrollably, I dug my nails into the counter, leveraged my weight against it, scraped and clawed against the black veil that kept my past hidden. Something was behind the curtain. Something I had to get to.'
Jane soon involves herself in figuring out how to help one of the local businessmen when something sinister begins to happen to him and of course puts herself in danger. A couple of her friends help her as best they can, but a truly evil man finds her before anyone can step in. Her best bet is to try to use the power she feels coursing inside herself, if she could only figure out just what exactly her powers are. Her back up plan? Hoping that her new BFF Cookie, Cookie's husband Robert, and the enigmatic diner cook Reyes, with whom she has a tenuous romantic relationship, will come to her rescue. Anything's possible.
'Standing close to him was like standing next to a jaguar. Well, a jaguar made of fire. Every move he made was powerful. Exotic. Hypnotizing. Or I was ovulating. It was a toss-up.'
Book nine in the Charley Davidson fantasy/paranormal series was a bit of a departure from previous releases, although I loved it immensely. It thankfully still had all of the charm, a ton of the snarkiness, and the majority of the interesting characters fans have come to love.
'He was like a sanctuary. Like shelter from a storm. I knew, beyond anything known and not known, beyond the future and the past, that I could count on this being, on this man, to be there for me.'
As the book synopsis announced, Charley found herself in a different part of the country with retrograde amnesia and being called Jane Doe, which just started things off with a bang. I wasn't sure if I'd like this new twist or if it would be frustrating because I adore Charley and her kooky friends and family. But I have to say that this sort of brought out a different, almost gentler, version of her that was actually rather endearing. She still had that sleuthing frame of mind and was the first as always to help someone. However, she wasn't quite as cynical as she had been previously and it worked well as she became Jane Doe here.
I liked the fact that Jane, just like when she was Charley, was searching to find out who she truly was. In Jane's case, it was to literally find out who the heck she had been her whole life and to get back to whomever she had left behind. If anyone. Although Charley's search to figure out who she was aside from the Grim Reaper played a big part in Jane's troubles and it made this a very intriguing story to follow. So it probably goes without saying that I would highly recommend reading at least a few of the previous stories, especially book eight, before starting this one. These aren't really standalones as each book sets up the next one.
Fans of the series will be happy to know that Reyes and Cookie are a huge part of the plot and right there in New York with Jane, albeit she doesn't know who they were to her before her amnesia. Reyes was just as sexy and smoldering as always (thank God!) and they had an intense attraction and fun platonic relationship before things escalated. I really liked how Darynda Jones handled their connection and how things ended. There were some extremely steamy scenes mixed in with a few tender ones that made me sigh happily. I SO love them as a couple!
Charley might have been all out of sorts in The Dirt on Ninth Grave, but I think fans will enjoy it every bit as much as they have other books in the series. Highly recommended.
Book Info:

Published January 12th 2016 | by St. Martin's Press | Charley Davidson #9
In a small village in New York lives Jane Doe, a girl with no memory of who she is or where she came from. So when she is working at a diner and slowly begins to realize she can see dead people, she's more than a little taken aback. Stranger still are the people entering her life. They seem to know things about her. Things they hide with lies and half-truths. Soon, she senses something far darker. A force that wants to cause her harm, she is sure of it. Her saving grace comes in the form of a new friend she feels she can confide in and the fry cook, a devastatingly handsome man whose smile is breathtaking and touch is scalding. He stays close, and she almost feels safe with him around.
But no one can outrun their past, and the more lies that swirl around her—even from her new and trusted friends—the more disoriented she becomes, until she is confronted by a man who claims to have been sent to kill her. Sent by the darkest force in the universe. A force that absolutely will not stop until she is dead. Thankfully, she has a Rottweiler. But that doesn't help in her quest to find her identity and recover what she's lost. That will take all her courage and a touch of the power she feels flowing like electricity through her veins. She almost feels sorry for him. The devil in blue jeans. The disarming fry cook who lies with every breath he takes. She will get to the bottom of what he knows if it kills her. Or him. Either way.