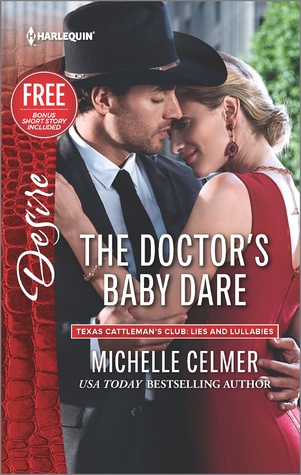 The Doctor's Baby Dare by Michelle Celmer: Office affairs are never easy nor are they clear cut.
Clare Connelly knew this but that still couldn't stymie her attraction to her boss. She knew better, she had been burned before and had only just survived. Add to that her rowing distance from her family, she as basically alone but that was okay. Clare had a job she loved and was proud of and that mattered.
Dr. Parker Reese didn't know not to get involved with coworkers. His problem it seemed was getting involved with too many women and never having lived in a small town before. Those two things didn't match. He was a darn fine doctor though and that would forgive him a lot of sins. He couldn't figure out why he was so attracted to Clare though, was it only because she turned him down?
One day over a patient they had both bonded with, things seemed to change and it seemed Clare and Parker had to finally face what they had been hiding from. Would this mean forever, or one night?
Back to Royal, TX and the Cattleman's Club we go with Ms. Celmer's installment. This is a different kind of novel for the set, barely mentioning the club or the tornado. However being different isn't a bad thing. As a novel this is a wonderful read and while it focuses on the main characters, the secondary ones are given the gift of leaping off of the page and into our minds as well. The plot moves well and the story seems to be about the right length for what the author is trying to portray. There are some twists and some hits from left field but they help to build the story and make you really feel. This is a good read, but fair warning there are some darker moments.
Book Info:

 Published February 9th 2016 | Harlequin Desire | Texas Cattleman's Club: Lies and Lullabies #4
A baby in need—and one special nurse—tame a wealthy doctor in this Texas Cattleman's Club novel from USA TODAY bestselling author Michelle Celmer!
Pediatrician Parker Reese likes to play the field and usually has women at his beck and call. Until caring for a newborn in crisis sets him on a collision course with beautiful but standoffish nurse Clare Connelly. He's willing to wager he can seduce her despite herself. But as they bond over healing the baby, the question becomes: Who's seducing whom? Soon all bets are off, but can Clare trust her heart to this player or is it just a game?