The Doctor's Diamond Proposal by Annie Claydon: The past can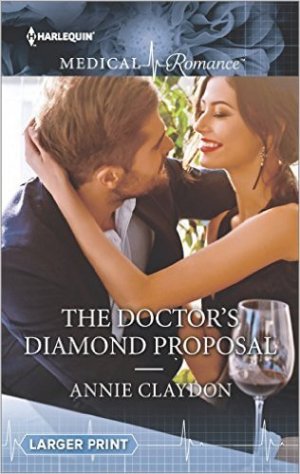 shape us, mold us into who we are going to be. The trick is not letting it control us as we move forward.
Alexandra Jackson knew that what life threw at you would shape you. She also knew that things that seemed pretty dark in the beginning didn't have to stay that way, not unless you wanted them to. Those things could actually be used to help you move forward and make a difference.
Leo Cross knew about events changing you as well. He knew about the darkness molding you, the hard journey of moving forward. What he didn't know was if he could ever fully move forward. He knew that some things would always stay with him though.
When Alex and Leo met again after so many years they both start to wonder about the what ifs. As Alex helps Leo to grow and move forward they both have to wonder if the past can really stay in the past of if it will always be just a call away.
This was an interesting story Ms. Claydon has given to her readers. The underscored trauma that Leo goes through is well dealt with, while allowing the romance to blossom. There is a great balance within the story of the plot and the characters which makes for a very well rounded story. It leaves the reader with a desire to help, and I wish it had some suggestions at the end for places to look where people can help. Overall this is a sweet romance that is more about growth and healing than anything else.

Book Info:

Publication: December 20th 2016 | Harlequin Medical |
Falling for the celebrity doc
Physiotherapist Alexandra Jackson never thought she'd see Leo Cross again after an accident changed her life. But when she's thrown back together with Leo she sees a hint of the boy she once met underneath the celebrity doctor's charming smile
Leo knows he can't give Alex the commitment she deserveshe's fighting too many demons of his own. But will their connection and Alex's positive approach to life inspire Leo to make her a proposal neither will ever forget?