In The Doctor's Secret Son by Janice Lynn, Volunteering at a charity event four years ago, nurse Chrissie didn't realize that she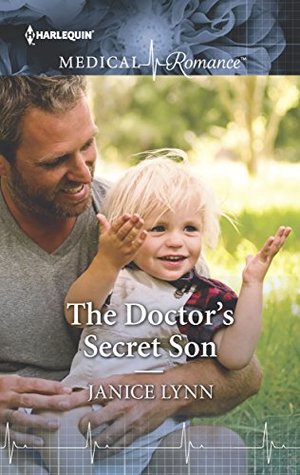 would meet a man who would change her life forever. Her attraction to Trace, a doctor who has since been traveling abroad with Doctors Around the World (DAW), was off the charts. But their one-time weekend of romance resulted in Chrissie getting pregnant. Knowing Trace wasn't looking to settle down, she's kept their three-year-old son a secret. Although once she runs into the handsome doctor again, she knows it's only a matter of time until he finds out the truth. Chrissie could never have imagined Trace's reaction when he finds out or the way it would once again change their futures.
'He was the father to her son. A son he didn't know about. She needed to stay far, far away before she slipped up and said something she shouldn't.'
Trace has been doing his part to try to make the world a little bit better place by going to war-torn countries and giving much needed medical assistance. Little did he know that back stateside Chrissie was raising their son without him. The truth comes as an incredible shock to him. He might not have been looking for a family of his own, but Trace doesn't think he would have turned his back on Chrissie or Joss, given the opportunity to make his own decision about it. Now with the chance to get to know them both better, he'll have to decide if they have what it takes to be a real family or if he should continue on with his plans to travel abroad again with DAW.
'Joss was his.
He gently cupped the boy's head in his palm in a caress and trembled at the enormity of the moment.
This was his son. He was touching a living, breathing human child he'd helped make.'
One weekend of pleasure had life-changing consequences for a nurse-doctor duo in The Doctor's Secret Son. The resulting secret caused melodrama, mixed emotions, and put a strain on those involved when the truth finally came out.
'Chemistry wasn't a problem with Chrissie.
They had so much chemistry, they could add new elements to the periodic table.'
I liked Janice Lynn's writing style right away and found it had a nice, easy, modern flow to it. And I thought it was a cool idea for Chrissie and Trace to meet–and have instant chemistry–while they volunteered at a charity event. What better way to have an unforgettable weekend with no attachments, right? Their chemistry was still just as potent four years later but it was what Trace and Chrissie had each been through in the interim that affected how they handled the secret being revealed and how they wanted to move forward. Trace's tumultuous time with Doctors Around the World gave him a harder edge, which came out when he learned he was a father. Anger and confusion was to be expected but he went a bit extreme at times. Although when he finally met Joss? Definitely sigh-worthy. As a single mom, Chrissie tried to put her son first in her decisions although a lot of the time to me it seemed like it was based on old fears instead.
I think I'm going to be in the minority here in that secret baby tropes are tricky for me in contemporary romances. I have to feel like there is a genuine reason for the information to be kept from the father. And in this case, I wasn't quite sold on it. I get why our heroine Chrissie feared telling Trace given events in her childhood and the fact that he stated he didn't want kids when they met. But I just felt like he should have been given the option to be part of his son's life from the start, whether their relationship boiled down to just a one (or two) time weekend fling or not. Other readers might be okay with how Chrissie handled things but it was a sticking point for me personally.
Overall, I think fans of secret baby romances will like this one. It had a rather quick but satisfying HEA–and just look at how adorable that cover is!
Book Info:

Publication: June 20th 2017 | Harlequin Medical Romance |
The truth about that night…
Nurse Chrissie Tomberlain never thought she'd see the unforgettable Dr. Trace Stevens, father of her little boy, again. She hadn't heard from him in four years, but then he shows up at a charity event and offers her another night of unbridled, no-strings passion!
Driven by his own demons, nomadic Trace has been saving lives in the world's most war-torn places. He's never wanted to put down roots, but then beautiful Chrissie turns his whole life upside down with one incredible revelation—he's a father!