The Drakon Baby Bargain by Tara Pammi is the second book in her Drakon Royals series. It's a captivating romance with an unusual twist – a marriage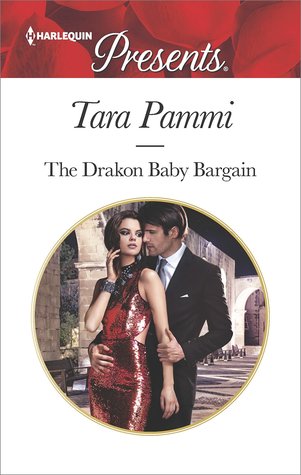 of convenience proposed by the heroine instead of the hero!
Eleni may be an illegitimate Princess of Drakon, but she's a vital part of the family nonetheless. Known as a peacemaker, she's quietly in the background helping her brothers negotiate business and royal family affairs. When a masquerade ball puts her in the arms of Gabriel Marquez, a significant investor in the country, she wishes only for a stolen kiss – but ends up with so much more.
Gabriel has recently become the sole guardian of his twelve year old daughter Angelina, a child he knew nothing about until her mother passed away. They have a fractious relationship as Gabriel knows nothing about children, and Angelina is still mourning her mother. When Gabriel discovers that Eleni has become friends with his daughter, he wants to find a way to keep her around to help smooth things over between them, suggesting she take on a job with him as a nanny. But Eleni goes one step further. She wants a child and offers Gabriel instead a marriage of convenience. She'll be a mother to Angelina and will get a child of her own, in return for which Gabriel's investments in her country will be well protected and she'll be the bridge Gabriel needs to his relationship with his daughter. Gabriel agrees, and it's not long before the two of them find passion in each other's arms. But will they find love, too?
After seeing a glimpse of Eleni's character in the first story in the series, Crowned for the Drakon Legacy, I was excited to read her tale and enjoyed it very much. Eleni is a quiet and unassuming woman. Part of the story revolves around the return of the man she was once in love with who left her without warning ten years earlier. His arrival on the night of Gabriel and Eleni's wedding is a source of some of the conflict in the story. Gabriel has reasons for the trust issues he has with women, and it takes him a while to understand that Eleni is not like the other women he's known.
Gabriel's relationship with his daughter is important to the story, as is Eleni's friendship with her. I really enjoyed seeing them grow closer as a family. Eleni and Gabriel definitely have an attraction to each other and there are some very sensual scenes between them. The culmination of the story gives a very satisfying happy ending and a lovely epilogue. It's a passionate and dramatic story with some sweet touches.

Book Info:

Publication: May 23, 2017 | Harlequin Presents | The Drakon Royals #2
A deal sealed with passion!
Illegitimate and overlooked, Eleni, Princess of Drakon, yearns for a family. At a masquerade ball, one stolen kiss with a stranger sparks an opportunity! Gabriel Marquez wants her to care for his child–could this be Eleni's chance to strike a deal of her own?
Gabriel, Drakon's biggest investor, is shocked by Eleni's bold bargaining…but a convenient marriage would be advantageous to them both! He'll gain a stand-in mother for his daughter, and Eleni the baby she longs for. Except Gabriel hasn't predicted the fire raging between them…one which will bind them together forever!