In The Duke Can Go to the Devil (Prelude to a Kiss #3) by Erin Knightley, May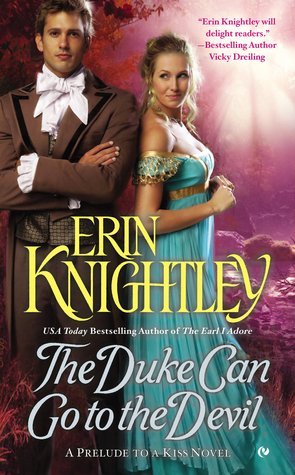 Bradford has treasured her adventures to exotic locations, traveling alongside her father, a boat captain, over the years. But after the death of her beloved mother, May's father has sent her to stay with her high society aunt in England. When May meets the stuffy Duke of Radcliffe, she is confused by her reaction. She finds his conservative demeanor off-putting, but can't seem to overcome the strong attraction growing between them.
"I shall always act as myself, whether I am in private or public. Just as you, I suspect, shall always act the overbearing ass."
The Duke of Radcliffe, William Spencer, has never questioned his role in his family's legacy. Becoming duke rather young taught him the importance of following society's rules which he takes very seriously. So why is that May, the beautiful young woman who never misses a chance to give her opinion, affects him so deeply? Radcliffe soon finds himself contemplating a future with the reckless woman who has infiltrated his thoughts and his dreams.
'She had told him once that home was where the heart resides. What if he could show her that her heart was right here in England?'
As the title suggests, The Duke Can Go to the Devil had a feisty heroine and a seemingly stuffy hero who were at odds from the first moment they met. Regency romance has rarely been so much fun or full of witty verbal sparring as with this novel.
This story was such a pleasure to read. I've been interested in Erin Knightley's work for a while and was knocked out by her writing style, especially how easily the scenes flowed one into the next. Thankfully, considering I jumped in with book three, this can be read as a standalone or as part of the Prelude to a Kiss series.
Reading the book synopsis, I was pretty sure I would like May, with her sassy attitude and her intelligence. Radcliffe was another matter. I did have to warm up to him a bit as I figured I would, but once we learned more about him and his family's past, I truly enjoyed him. Radcliffe's interactions with his young step-siblings warmed my heart completely, as well as how much he tried to do right by May.
Like I said before, the dialogue (aka: verbal sparring matches) were snappy, plus full of curiosity and intellect. The attraction between May and Radcliffe caught them both by surprise so they not only fought it within themselves, but also with each other during their conversations. It was interesting to see two people with such definite opposing viewpoints on matters try to find a common ground. I loved the longing that built between them slowly, happening naturally as Radcliffe and May started to understand each other.
Are you a Regency fan who enjoys romance that balances a sweet and tender side with explosive chemistry? Then The Duke Can Go to the Devil is for you!
Book Info:

 Publication: July 7th 2015 | by Signet | Prelude to a Kiss #3
In the new novel from the bestselling author of The Earl I Adore, May Bradford isn't afraid to play devil's advocate when it comes to a duke.…
After her mother's death, May's sea captain father sends her halfway around the world to live with his stodgy sister in England. The summer festival in Bath made for a lovely distraction, but now she can't wait for her father's return so she can leave this country, its suffocating rules, and one infuriatingly proper nobleman in particular behind.
Because he is the Duke of Radcliffe, William Spencer's whole life revolves around his duties. He never steps foot outside the bounds of proper behavior, and he expects the same of those around him. With her devil-may-care ways, May vexes him nearly as much as she tempts him, but there's something about her that he just can't resist. He knows he's falling hard for her, but with lives that are worlds apart, will they ever be able to find any common ground?