Karen Ranney returns with the second book in her Duke Trilogy – The English Duke. All the books are stand-alones and do not need to be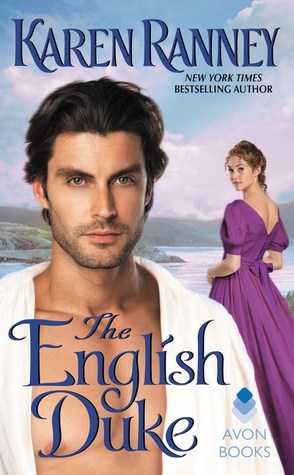 read in order.
Martha York's father was a respected scientist who recently passed away and left his scientific research – including his prototypes and his notes – to his friend and protégé – Jordan Hamilton, the Duke of Roth. Martha writes to Jordan to tell him of her father's gift, but he never responds. She's hurt by his disregard and disrespect, especially considering the two men had developed a solid friendship through years of correspondence. Martha was her father's assistant and read their letters, and she feels like she knows Jordan, which is why she is baffled why he will not accept her father's generous gift.
After a year, Jordan finally replies and tells Martha he does not want her father's bequest. Now she is really angry, and she's not willing to accept his refusal. She travels to his estate with her grandmother and younger half-sister, Josephine, to deliver the files and prototypes. She plans to drop everything off and return home, but her grandmother falls ill when they arrive. The three women find themselves stuck and must accept the duke's hospitality, which he was not exactly thrilled to offer.
Jordan doesn't want Martha and her family at his estate. As a matter of fact, he doesn't really want to be around anyone. He's never been particularly gregarious, but he's especially reserved after inheriting the dukedom when his older brother died. He had a promising career in the Navy and had a serious riding accident which crushed his leg. He must use a cane and still suffers a lot of pain, and he's grumpy and moody. He just wants to be left alone to work on experiments.
Martha pushes her father's work onto Jordan, and he discovers that she is just as knowledgeable about her father's experiments. He finds himself reluctantly intrigued by her, and they agree to work with each other during her stay. They discover that they have a lot in common – not only are they both loners who do not fit society's idea of normal, but they both have exceptional intelligence with an aptitude for science. A friendship slowly develops, and they both feel they have found someone who understands them. Their relationship evolves steadily and sweetly based on shared interests and mutual respect.
Just as Jordan and Martha develop feelings for each other, Martha's sister decides she would really like to be a duchess – Jordan's duchess. Josephine is an immature, frivolous woman, and she's downright ugly to Martha. She throws a kink into the love story and complicates the fledgling relationship between Jordan and Martha.
The English Duke's focus on scientific discoveries of the time period is interesting and different. It provides a nice backdrop to the love story between Martha and Jordan, which is emotional and romantic. Ms. Ranney does a fantastic job of writing a story that shimmers with feelings, and The English Duke is a heartfelt and entertaining story.
Book Info:

Publication: 3/28/17 | Avon | Duke Trilogy #2
For years, Martha York has been fascinated by a man she's never met—Jordan Hamilton, the new Duke of Roth and protégé to her inventor father. Could the elusive gentleman possibly live up to his brilliant letters? When Martha travels to his estate to carry out her father's last bequest, she discovers that the answer is a resounding yes, for the duke's scientific mind belies a deep sensuality…
Jordan was determined to complete his prototype alone, but it's impossible to resist the alluring young woman who shows up at his door. Working together, they grow ever closer, until a case of mistaken identity leaves him bound to another. A woman's heart may be more complex than the most intricate invention, but Jordan must find a way to win Martha's, or lose the only woman who can truly satisfy him…