The Exhibitionist by Tara Sue Me: Nathaniel and Abigail are a very happily married couple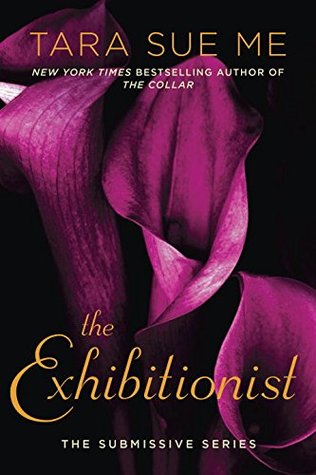 and they are excited to make the move to Delaware. They have found a local BDSM group and they are looking forward to meeting everyone. Since they have been in the life for a while, they are asked to make suggestions to ensure the local group is safe for everyone involved. While they get more involved in learning how this local group operates, Abby is more and more motivated to play out her exhibitionist fantasies.
"Every part of you, no matter how small or big or how it's wired, is what makes you the person you are. And that's the person I love. I won't have you thinking negative thoughts about her."
I lifted my head for a kiss. "I love you, too."
Nathaniel loves and adores his wife and submissive. Both are committed to keeping their love life interesting, including play in front of others. But as they get more involved in the local groups, their respective insecurities come into play. Abby's desires are pushing them into new areas and faster than Nathaniel anticipated. Nathaniel is a creative, caring, and possessive Dom. His own limits are being tested by his need to ensure that Abby gets exactly what she needs from him and their relationship.
"Nah, not with my mad skills."
"Especially with your mad skills." She entwined our fingers. "Take me home, Master."
"Home." I brought her hand to my lips and kissed her knuckles. "Because I have promises to keep."
The Exhibitionist is the continuing story of Nathaniel and Abigail as they explore their limits. Tara Sue Me seamlessly draws you into Nathaniel and Abigail's world with plenty of interesting characters, believable conflict, and relationship and character development. Ms. Me provided an enduring, engaging, and really hot married couple. The Exhibitionist can be read as a standalone. Fans of C.D. Reiss, Meredith Wild, and J. Kenner will enjoy The Exhibitionist.

Book Info:

Publication: Expected publication: November 3rd 2015 | NAL | Submissive #6
How far can a true submissive romance go? Abby and Nathaniel push their limits as the New York Times bestselling Submissive Series continues.…
She's ready for even more.…
When Abby West discovered her submissive desires, she felt like she was born anew. But lately, her Dominant husband hasn't been the demanding Master who once fulfilled her every passion. Abby begins to crave something else—and to wonder if Nathaniel can still push her past her boundaries to the places she craves.
Nathaniel knows that Abby belongs to him completely, but even he can't ignore the pleasure on her face as they get to know their new BDSM group. They've invited Nathaniel to guide their group to a new level, and he's promised to show them the way, even as he recommits to fulfilling his beautiful submissive wife's every desire. Only this time, uncovering her sexual limits may also expose their relationship to more conflict than it can withstand.…