In The Feeling of Forever (Love Unplugged #2) by Jamie Howard, winning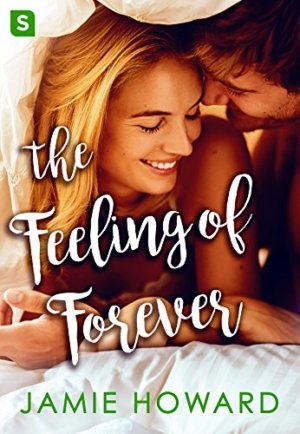 Sexiest Man Alive would be a honor for most men, but for Felix Donovan, the things he'd have to do to accept such an accolade like photo shoots and actually accepting the award, is too much to handle. Since Felix doesn't want anyone knowing about his accident or how serious his injuries are. Having everyone involved sign non-disclosure agreements is the best way to maintain his privacy, but Juliet 'Jules' St. Clair –the woman voted Sexiest Woman Alive – begins to make him realize that hiding isn't the answer, especially with the threat of a stalker hanging over both their heads when their relationship puts him in the stalker's sights. Can Felix and Juliet discover who the stalker is before it's too late, or will their chance at happy ever after be ripped away?
"Well, it's always nice to meet a fan. I'm more than happy to give you an autograph if you want one."
The teasing note in his voice hinted at the fact he was joking rather than just being an obnoxious a**. With a smirk, I settled one hand on my hip and cocked an eyebrow at him. "Is this the part where I'm supposed to shove my boobs in your face so you can scrawl on me with a sharpie?"
The first book of this series was the first book I'd ever read by Ms. Howard, and having absolutely loved it due to the wonderful characters with their emotional back stories, I couldn't wait to dive into this story, because the characters sounded just as intriguing to me after reading this book's blurb. Right from the beginning, I discovered straight away that this story can be easily read as a stand-alone, and I loved the way it started with a little mystery. Who is the man whose been voted sexiest man alive? Why does he need people to sign a non-disclosure agreement?
However, it was the moment that Jules and Felix met that I found myself completely drawn into this story. There's an instant connection between them, and I liked how she didn't discriminate against his condition. She's the first person besides those closest to him who know about his accident that has made him feel normal and I liked how she teased him at times to make him feel more comfortable or to make him smile.
As for the dialogue, it was intense due to the main characters back stories and what Jules goes through because of her stalker. The heroine has already suffered a lot at the hands of her stalker and believed she was safe. But, with the harrowing incidents getting more and more dangerous for Jules, it's a wonder she can trust anyone. Why is someone out to hurt her? How far will Jules's stalker go to make her suffer? Does she have a new stalker or is it the same one? All these questions ran through my head the more drawn into this story I became and discovering the truth about Jules's stalker didn't come as a surprise for me. But what I liked most about the heroine was why she pursued the career she has in the first place. She loves her family and would do anything to help them because of her sister's illness.
"What kind of rock star doesn't have any tattoos?"
He flopped back onto the pillows with a chuckle. "The kind who's afraid of needles?"
"Really? Needles?"
"Um, yeah. They're sharp and hurt like hell."
"Aw." I patted his cheek. "I didn't realize you were such a big baby."
While Felix, a stupid mistake cost him a lot and although he didn't handle his condition that well when he was first injured, I enjoyed how he begun to deal with it better once he meets Jules. He's determined not to let his condition stop him from enjoying life anymore, even if it means exposing his secret when the heroine needs him the most. Also, I liked the decisions he makes when it comes to his injury. It shows that he's willing to do whatever it takes to be with Jules.
Overall, Ms. Howard has penned a really good read in this second book of her Love Unplugged series, which made me laugh and also had me shedding a few tears because of what both the main characters have been through and face throughout this book. The growing relationship between these two was a real treat, and I liked that Jules was so straight-forward and went after what she wanted, because it was palpable that Felix made her happy.
The way this story ended had me on the edge-of-my-seat with what this couple faces when it comes to Jules's stalker. Who knew the crazed person would go to such lengths to get at the heroine? But I loved how it reunited the pair, and what Felix did for Jules at the end to show her how much he loved her and prove that he'd never let her go. I would recommend The Feeling of Forever by Jamie Howard, if you enjoy books by authors Abbi Glines, Emma Chase or Sawyer Bennett.
Book Info:

Publication: February 7th, 2017 | Swerve | Love Unplugged #2
Juliet St. Clair has spent her life under Hollywood's spotlight. While being America's favorite girl next door has had its perks, having to testify against her stalker to put him behind bars certainly wasn't one of them. But when she thinks about walking away from it all, she can't help remembering the enormous pile of medical bills her family is drowning under. Bills that just keep on coming.
Felix Donovan had it all–stunning good looks, gorgeous women, and a spot as the drummer to a band that's sitting pretty at the top of the charts. Until one life-altering decision left him paralyzed from the waist down. He doesn't know whether to laugh or cry when he wins this year's Sexiest Man award, but the one thing he immediately does is send out a Non-disclosure agreement. Hiding his condition from the public is hard as hell, but he's not ready to face the world while he's still struggling to accept his new reality.
Except this year's Sexiest Woman–Juliet St. Clair–never looks at him with pity, only desire. But falling for Juliet means a permanent spot in the tabloids, a decision Felix isn't sure he's ready to make. And when Juliet's stalker re-emerges from her past, Felix's secret isn't the only thing at stake, it could cost Juliet her life.