The Forbidden Man by Elle Wright: Just broken up with her fiancé after yet another of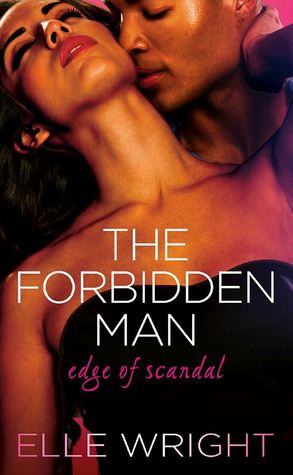 his cheating scandals and lies, Sydney is finally done with him, but the last place she expects to end up was her best friend and fiancé's brother's arms.
Morgan has known for many years he wanted Sydney, but out of respect for her brother and his friend, and then later her romance with his brother, he never tried. But now, at long last, he has her in his arms and he does not want to give her up, no matter the obstacles in their path.
The one thing I really like about The Forbidden Man is that Morgan goes after Sydney. He doesn't let her runaway, as she often tries, and I always appreciate that characteristic in my heroes.
Aside from that, however, I couldn't get into The Forbidden Man. For one, the entire situation just feels icky to me. They're lying to everyone and trying to keep their relationship a secret – and see how well that goes – and it doesn't help to create a strong hero or heroine. I logically understand why, but I suppose how they went about it didn't click well to me.
I wasn't much a fan of Sydney or Morgan, especially Sydney, either. She's indecisive as hell, overly overwrought with guilt, and blaming herself when she so shouldn't be. It was too negative a headspace for me to actually appreciate the journey she's going through. Morgan is slightly better, but the lying and refusal to care about anything but his desire for Sydney gets to me a lot.
As the story goes on, too, dramatic events keep popping up and at a certain point it feels silly. More, here we go again, then real because they don't relate to the story. They're just random obstacles with no tie-in. It feels like the author's just throwing in all these situations, and instead of feeling for the characters, I get annoyed.
Book Info:

Publication: July 28, 2015 | Forever | Edge of Scandal #1
In Love With the Wrong Man
Sydney Williams has forgiven her fiancé, Den, more times than she can count. But his latest betrayal just days before their wedding is too big to ignore. Shocking her friends and family, she calls off the engagement. She walks out on Den . . . and into the arms of his brother, Morgan.
Known as a player, Morgan Smith has secretly spent years fighting his feelings for Sydney. When Den's latest dirty deed leaves Sydney devastated, Morgan can't stop himself from coming to her rescue. What begins as friendship quickly escalates into all-consuming passion. Despite their intense connection, Sydney would rather deny her desire than come between brothers. But as Morgan is determined to make Sydney his, Den won't give her up without a fight . . .